AAMU BTS Efforts Get $4.2M DOT Boost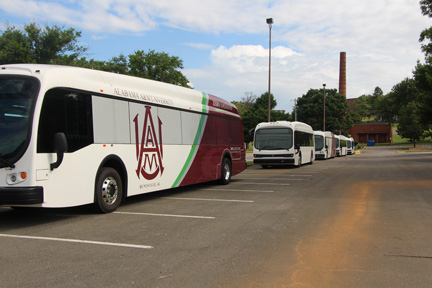 July 01, 2021
Making Inroads in Low-Emission Transportation
The U.S. Department of Transportation's (USDOT) Federal Transit Administration (FTA) has announced approximately $182 million in funding for low and no emissions buses and the facilities that support them. This program helps contribute to the Biden-Harris Administration's goal of reducing greenhouse gas emissions by fifty percent by the end of the decade.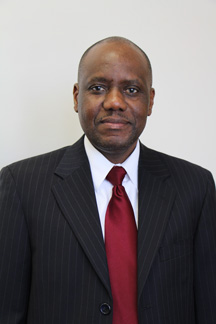 The project selections were approved as part of the Low- or No-Emission (Low-No) grant program, which funds the deployment of zero-emission and low-emission transit buses and supporting equipment and facilities. A total of 49 projects in 46 states and territories will receive funding through the program.
Alabama A&M University will receive $4.2 million to purchase a battery electric bus, construct a bus service bay and install a battery electric storage system to power its bus facility complex, including charging stations. The project will ensure continued service reliability, maintain a state of good repair and, by improving air quality, advance environmental justice in the Huntsville community, according to Marshall Chimwedzi, director of AAMU Bulldog Transit System BTS).
Chimwedzi has been credited for revolutionizing (BTS), expertly leading and guiding its transition toward a zero emissions, renewable energy future. BTS replaced nine (9) fossil fuel powered buses with 100 percent battery electric heavy duty transit buses.
Chimwedzi, who AAMU President Andrew Hugine, Jr., has dubbed as "a prolific grantsman," is also overseeing the construction of electric charging station infrastructure, four (4) 125kw and one 250kw fast charge. Additionally, BTS is designing and constructing a one megawatt solar array system and electric storage system, along with a new electric vehicle bus service bay and bus wash.
The estimated cost of these projects is $15.5 million and to date Chimwedzi has secured $13.4 million via competitive grants during a five-year period. The grants meet the USDOT vision of technological innovation, mitigate environmental justice, help develop an electrical vehicle workforce, and strengthen the national security and future through the promotion of renewable energy.
AAMU rEvolutionizing Transportation initiative also has opened doors for Chimwedzi to share the AAMU story by an invitation to present at the Electric Vehicle (EV) World Congress 2020, Bristol, United Kingdom (UK), and he has received an invitation to present and attend the EV Charging Infrastructure 2021 in Berlin, Germany.
For more information, contact Marshall Chimwedzi at marshall.chimwedzi@aamu.edu.