AAMU Construction Showing Much Progress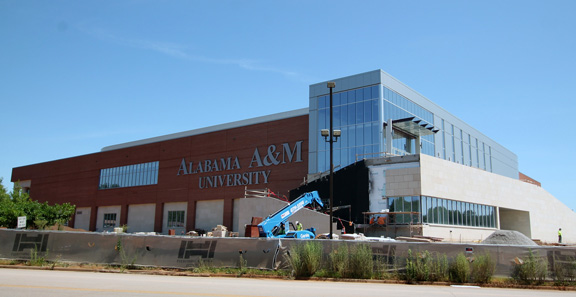 June 30, 2022
Changing Landscape!
Event Center
In November 2020, Alabama A&M University President Daniel K. Wims joined University officials in a groundbreaking ceremony for a multi-functional facility that would help to change the landscape of north Huntsville. PHOTOS
Fast forward. The Alabama A&M University Event Center is on track for completion in fall 2022. By June's end, the facility was 80 percent complete, according to Brian Shipp, director of university facilities, although the building also was 100 percent "dried-in" at the same time. The jargon simply indicates that the shell of the Event Center has been completed to such an extent that wind, rain or other weather will not pose a problem to its more weather-sensitive areas.
Additionally, drywall is complete, and painting is underway. The HVAC systems have been installed and are online; permanent electrical power is complete; and even scoreboards are installed.
At present, the site work on the massive facility has started again, and curbs and gutters are being installed. Gradually progressing toward completion, the Event Center is undergoing landscaping; ceiling grid installation; placement of lighting, sound and other electrical systems; floor polishing and ceramic tile placement; as well as the installation of cabinets and stadium-fixed seating.
The 6,000-seat facility will be the venue for a wide range of sporting events, University ceremonies and numerous activities offered by the campus and community.
The Welcome Center
Alabama A&M University officials once again pulled together a ground-breaking ceremony in May 2021 for a Welcome Center, located at the corner of Chase Road and Meridian Street. PHOTOS
University administrators joined city and state leaders, students, faculty, staff, alumni, architects, contractors and the construction team for the occasion.
The $7.6 million structure will house retail space, commercial restaurants and an executive conference area, according to Brian Shipp, AAMU director of physical facilities.
Initial plans include the center serving as the home to the AAMU Office of Admissions, as well as providing a one-stop shop for key student-related functions and information.