Vaccine Fest on The Hill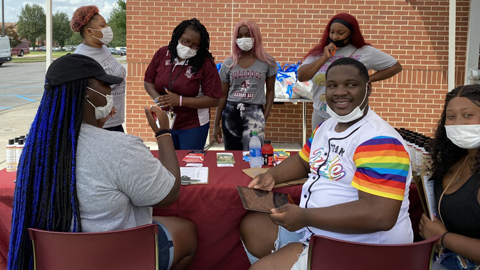 September 02, 2021
Campus-wide Vaccinations
The AAMU Student Health and Counseling Center held its first-ever Vaccine Fest Block Party Friday, August 27. The event provided students with free doses of the Moderna COVID-19 vaccine. Those receiving their first dose will get a second dose on September 23.
The center provided students with gift bags and free snacks, while a DJ provided the music.
Community partners Thrive Alabama, UAB Medicine, Crisis Services, Wellstone and the Epsilon Gama Omega Chapter of Alpha Kappa Alpha Sorority, Inc., were also on hand to volunteer and provide information.
The also center runs a Vaccine Clinic for the community (general public) every Thursday from 1:30 – 4:30 p.m. in the AAMU Student Health & Wellness Center.
The Fest event continued until 3 p.m. Friday, and was open to faculty and staff.
- Debra Daniel