AAMU Launches New Era with Electric Buses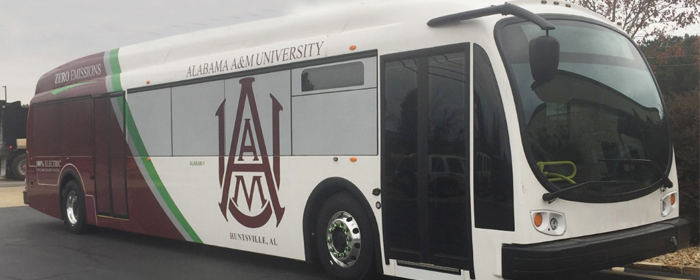 November 13, 2019
Bulldog Transportation System Pushes Sustainable Energy
AAMU ushers in new era of clean, quiet transportation and marks first deployed
electric buses in Alabama and for an HBCU
Huntsville, Ala. ---- There is excitement in the air at the offices of Alabama A&M University's Bulldog Transit System (BTS). Staffers are counting down the days until Wednesday, November 13, when the University will introduce two brand new, state-of-the-art Proterra electric buses to the campus, public and Alabama. The electric buses mark the first electric buses on the road in the state of Alabama and a first electric bus fleet among HBCUs across the nation.
University and public officials, as well as representatives from Proterra, are expected to attend the ceremony scheduled from 11:30 a.m.-1 p.m. Wednesday, November 13, on The Quad, located in the center of the campus.
Attendees will hear about the importance of zero-emission transportation and learn about the features of the two innovative Proterra battery-electric buses, which represent phase one of an initiative to replace the University's older diesel fleet and to make a positive impact on greenhouse gas emissions.
"This has been a methodical process that began two years ago with the initial awarding of a $1 million grant from the Federal Transportation Administration (FTA), which allowed BTS to purchase the Proterra buses and to prepare the infrastructure," said Marshall Chimwedzi, director of AAMU BTS. "In addition to the buses, the AAMU campus community receives upgrades, the addition of charging stations, and a bus storage facility."
AAMU President Andrew Hugine, Jr., stated that the University has a strong commitment to protecting the environment and upgrading the fleet "with buses that are zero emission, cleaner and much more efficient to operate and maintain."
BTS and Proterra formed a strong partnership to deliver clean, quiet transportation to AAMU and the surrounding community. Proterra is a leading innovator in the manufacture of heavy-duty electric transportation and proudly designs, engineers and manufactures its battery systems and buses in America. AAMU partnered with Proterra to purchase the two 40-foot Catalyst electric buses that will be available for public display.
"More universities across the country are looking for ways to reduce their carbon footprint and integrate sustainable university policies," said Proterra CEO Ryan Popple. "With zero tailpipe emissions and a quiet rider experience, electric buses are the perfect solution. We're proud to partner with Alabama A&M University and Bulldog Transit System as they pioneer Alabama's first order of electric buses."