Board's Executive Committee Will Meet in B'ham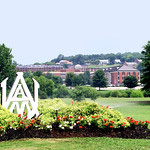 April 15, 2020
Executive Committee of Trustee Board to Meet in B'ham
Notice is hereby given that there will be a meeting of the Executive Committee of the Board of
Trustees of Alabama A&M University to be held on Wednesday, April 15, 2020, at 12:30 p.m.
The physical location of the meeting will be 2148 Greensprings Highway Birmingham, AL 35205.
The purpose of the meeting will be to address tuition and fees for the Summer, and potential,
temporary waiver of the SAT/ACT entry requirements for Fall admission 2020, and to address any
further business which may properly come before the Executive Committee at that time. See the
attached proposed agenda for the Executive Committee Meeting. The meeting will be conducted in accordance with all requirements of the Open Meetings Law as set forth in § 36-25A-1 et. seq, and in particular § 36-25A-5.1, of the Code of Alabama, as modified by the Proclamations of the Governor of the State of Alabama in connection with the current emergency. The deliberations conducted, and any contemplated action expressly relate to matters necessary to respond to COVID-19 and are necessary to perform essential minimum functions of the Board of Trustees on behalf of the University as a result of the present, exigent circumstances. The public is invited to attend and observe proceedings of the Executive Committee.
A G E N D A
ALABAMA AGRICULTURAL AND MECHANICAL UNIVERSITY
NORMAL, ALABAMA
MEETING OF THE EXECUTIVE COMMITTEE
OF THE BOARD OF TRUSTEES
Pursuant to Governor Ivey's State of Emergency Provisions
Zoom Phone Conference Call
Dial-In Number: 1-312-626-6799
When prompted: 96008995788#
Wednesday, April 15, 2020
12:30 p.m.
AGENDA
A. Roll Call of Members
B. Adoption of Agenda
C. Action Items
a. Waive required fees for Summer School 2020 and assess tuition only
b. Waive ACT/SAT requirement for Fall Admission 2020
D. Adjournment