AAMU Band Receiving Accolades for Houston Performance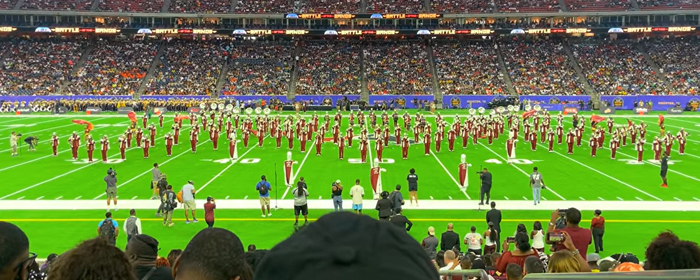 August 29, 2022
AAMU Band Receiving Accolades for Houston Performance
Huntsville, Ala. ----- The Marching Maroon and White Band of Alabama A&M University is being praised by alumni, school officials and fans for a stellar performance in Houston, Texas, on August 27.
The AAMU Band, directed by alumnus Carlton Wright, joined eight marching bands from fellow historically black colleges and universities (HBCUs) at the National Battle of the Bands (NBOTB) in NRG Stadium. The event was designed as a kick-off to the fall HBCU marching band season by showcasing new performances.
"NBOTB was a well-oiled machine," said Wright. "Everything was very organized, and the staff was very professional and helpful on all fronts." Wright added that the event took a great deal of logistical planning in terms of transportation, meals and lodging. He especially expressed praise to the Derrick Webber of the Webber Marketing firm. "His team was absolutely fantastic!"
"People have come to expect great performances by the Marching Maroon and White," commented AAMU President Daniel K. Wims, who joined several Bulldog alumni and supporters in Houston. "Our band never disappoints."
In addition to the Marching Maroon and White Band, attendees enjoyed performances by the Alcorn State University Sounds of Dyn-O-mite, Bethune Cookman University Marching Wildcats, Grambling State University World Famed Tiger Marching Band, Kentucky State University Mighty Marching Thorobreds, North Carolina A&T State University Blue and Gold Marching Machine, Prairie View A&M University Marching Storm Band and Southern University Human Jukebox.
"Exposure is a very important part of our mission," continued AAMU's Wright. "Not only do we want to market and promote the University and band program, but we want to ensure that our students are able to travel to various places to experience cultures outside of Normal, Ala."
During the stay in Houston, AAMU Band members were able to enjoy the experience by visiting local attractions and areas around Houston's medical district. Wright said the setting was "a great inspiration" to students considering the medical disciplines following their graduation from AAMU.
The annual event also serves to increase exposure of HBCUs and their marching bands, their roles in developing aspiring musicians and future leaders. More than $700,000 has been awarded to participating schools.
Wright said the Band appreciated the support from President Wims and his cabinet, who attended the stadium performance and the performance held for the Houston Alumni Association meeting. Houston alumni donated $5,000 toward the Band's 2023 trip to New York City to perform in the Macy's Thanksgiving Parade.
"I am thankful for the best students and staff in the country," Wright said. He added special thanks to the AAMU Police Department (Interim Chief Montrez Payton and Lieutenant Bobby Clark).
Maroon and White Band supporters are being asked to vote for Band as the best performance at the 2022 HBCU National Battle of the Bands. Vote HERE