AAMU Team First in Regional IEEE Conference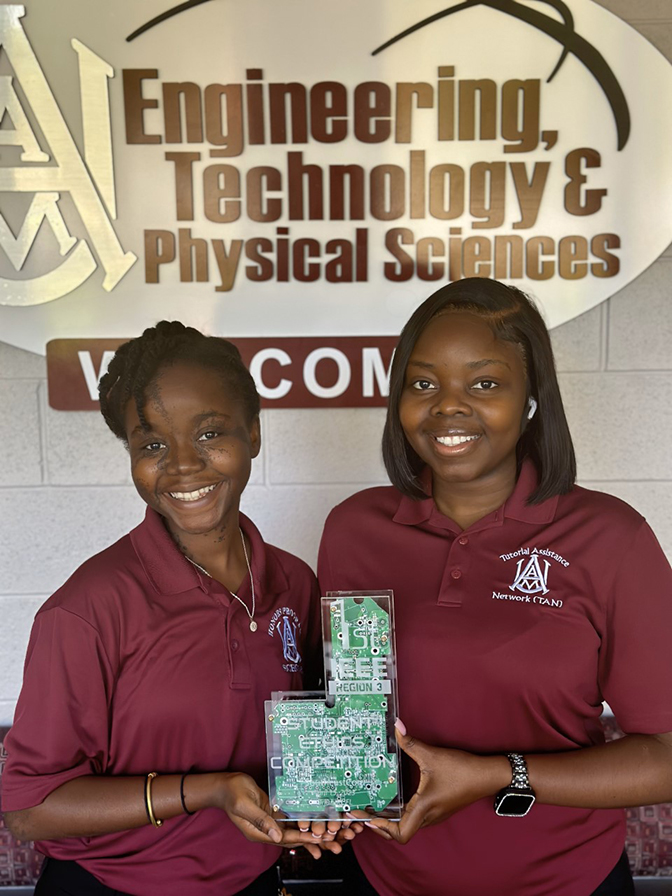 April 25, 2023
Looking Deep into ChatGPT
A two-student team from Alabama A&M University recently won the first-place prize at the regional IEEE conference.
Mphande Phiri, a senior majoring in electrical engineering, and Shemaiah Mbetwa, a junior also majoring in electrical engineering, participated in an Ethics competition during the IEEE SouthEast Conference and won first prize. The competition centered around ethical hacking and required teams to "ethically hack" ChatGPT and to identify potential ethical vulnerabilities. The team chose to present a case study outlining their interactions with ChatGPT, the vulnerabilities they identified, and their suggestions for changes to the IEEE Code of Ethics, along with at least one public policy.
The competition was fierce, noted Dr. Raziq Yaqub, associate professor of electrical engineering and computer science, and teams from across the region participated. "However, our students were able to showcase their knowledge and skills, earning them the top prize," said Yaqub. "The judges recognized the team's outstanding performance at the conference and awarded them alongside two professionals from the city section. This is a testament to our university's quality of education and our students' dedication." Phiri and Mbetwa's success in the competition was a result of their hard work and dedication, as well as the guidance and support provided by their mentors. Finally, the accomplishment reinforces the importance of participating in academic events and competitions, said Yaqub. These activities provide a platform for students to showcase their skills and knowledge, learn from their peers, and build connections with professionals in their field, he went on.
"We congratulate the winning team and wish them continued success in their future endeavors," Yaqub added. "We also thank the faculty members who supported and guided them throughout the competition."