Commissioner, Representative to Address AAMU Graduates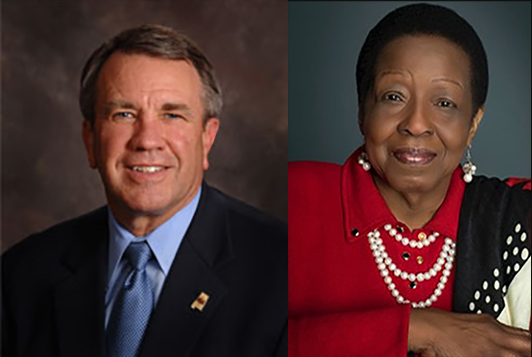 April 03, 2023
McCutcheon, Hall Will Address Separate Ceremonies
Alabama A&M University will split its spring commencement observance into two distinct ceremonies this year, officials reported on March 21 during an extended cabinet meeting of administrators and several heads of campus departments and units.
The University will hold a commencement ceremony for nearly 150 graduate students at 9 a.m. in the Event Center on Friday, May 5. Madison County Commission Chairman Mac McCutcheon will serve as the commencement speaker. Prior to his current role, McCutcheon served as the 66th speaker of the Alabama House of Representatives. He served in the state legislature from 2006 to 2022.
The 472 undergraduate students and the 43 members of the Golden Class of alumni will be part of the later Event Center procession beginning at 5 p.m. Alabama State Representative (District 19) Laura Hall will address the undergraduates. Hall's committee assignments have included: Judiciary, Joint Interim on Medicaid, Public Safety, Welfare, Health, Industrial and Economic Development, Joint Budget and Finance and Government Finance and Appropriations. The retired educator received her K-12 administration certification from Alabama A&M University.