Professor to Address Chamber Session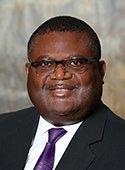 February 24, 2020
Social Equity and Justice for Organizational Development
An Alabama A&M University professor of political science and public administration will speak at the AAMU-Huntsville Madison County Chamber Business Development Series on Friday, February 21, in the Toyota Training Room, 225 Church Street NW (downtown), from 10 a.m.-12 noon.
Dr. Michael E. Orok, a department head in AAMU's College of Business and Public Affairs, will speak on "The Strategic Implication of Social Equity and Justice for Organizational Development." The public is invited, but registration is required.
For more information, call Pammie Jimmar at (256) 535-2043 or Roosemary Spragins at (256) 372-8667.