AAMU Renames Vocational Building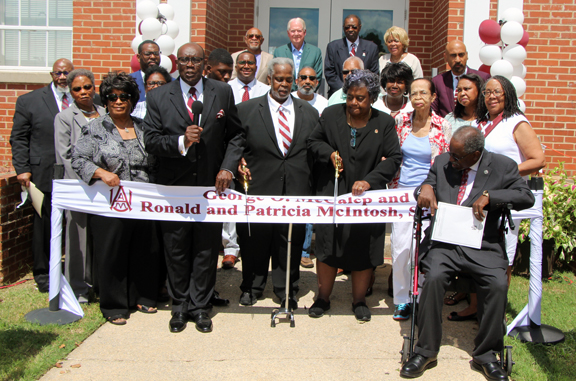 September 02, 2021
McCalep-McIntosh Hall Received $4.35 Million in Renovations
Huntsville, Ala. ---- An 80-year-old structure on the Alabama A&M University campus received a renaming during a ceremony on Thursday, September 2. PHOTOS
The building named in honor of long-time AAMU administrator, educator and advocate George O.McCalep, Sr., and often referred to by the moniker "McCalep Building," now includes the names of a new generation of campus loyalists. A ribbon cutting ceremony was held in front of the hillside structure now named George O. McCalep, Sr. & Ronald and Patricia McCalep McIntosh, Sr. Hall. The McIntoshes are daughter and son-in-law to the late McCalep.
The building was constructed in 1942 to house the school's vocational programs and was subsequently named in honor of McCalep, the principal of the laboratory school and a social science teacher. The building later fell into disrepair until $4.35 million was allocated for its renovation under the Andrew Hugine, Jr., administration. The monies were used to shore up the facility's ADA compliance needs; its mechanical, electrical and plumbing systems; along with the upgrading of restrooms, classrooms, office spaces; and the installation of an elevator.
The McCalep-McIntosh Building now houses the Department of English and Foreign Languages, in addition to the Department of Social Work, Psychology and Counseling; and the Office of Distance Education and Extended Studies as renovations are continuing in Walter S. Buchanan Hall (formerly Bibb Graves).
"Education in the 21st century will require of us that we have up-to-date, modern, technologically enhanced buildings," commented Dr. Andrew Hugine, Jr., AAMU president. "Today's celebration of the renovation and renaming of this academic building is an example of such a facility."
Ronald and Patricia McIntosh have been honored for their philanthropic efforts, particularly for Alabama A&M University and its various programs. Ronald, a native of Birmingham, Alabama, graduated from Jackson-Olin High School and set his sights on attending AAMU. Patricia, a graduate of Councill Training School, literally grew up on the AAMU campus. However, she received a Bachelor of Science degree in biology from Fisk University and a master's degree from Alabama A&M University. Both successful corporate executives, Patricia worked at Xerox Corporation until her retirement, while Ronald worked as an Industrial Security Specialist IV with Top Secret clearance until his retirement in 2010.
For Ronald, A&M seemed to pool together a wide array of special people at a special time and place, when all that truly mattered was service. This is the reason that the HBCU graduates feel so adamant about the importance of giving back, especially to an institution that had given them so much. Patricia remembers combing the foothills of the AAMU campus as a child on her bike, and as a teen learning to drive through the campus faculty housing. Her early memories are all infused with campus activities and life on The Hill. With both parents employed on campus and living on the campus, Patricia knew most of the students, and they knew her. She and her friends were known as "The Campus Kids," and much of her early social life was entwined with campus activities.
Not only does Ronald serve as a part-time announcer on AAMU's WJAB-FM 90.9, he also serves as announcer for AAMU's football and volleyball programs. He is the football game day announcer and affectionately known as the "Maestro" by his many fans on WJAB. Ronald is the President of the Bulldog Club, providing continuous support to the Athletic Department.
The McIntoshes have given hundreds of thousands to the University over their lifetimes. The press box in Louis Crews Stadium was named in their honor, and their contributions were also instrumental in the purchase of a new state-of-the-art scoreboard.
Ron and his wife Pat are the parents of two children, Ronald Jr. and Patrice, also AAMU alums.
Following the ribbon cutting ceremony, friends and family of the couple were permitted to walk through the facility and to enjoy refreshments. To see the event VIDEO prepared by Electronic Media Communications, click HERE.
###
- Jerome Saintjones