80-Year-Old to Receive Degree at AAMU Commencement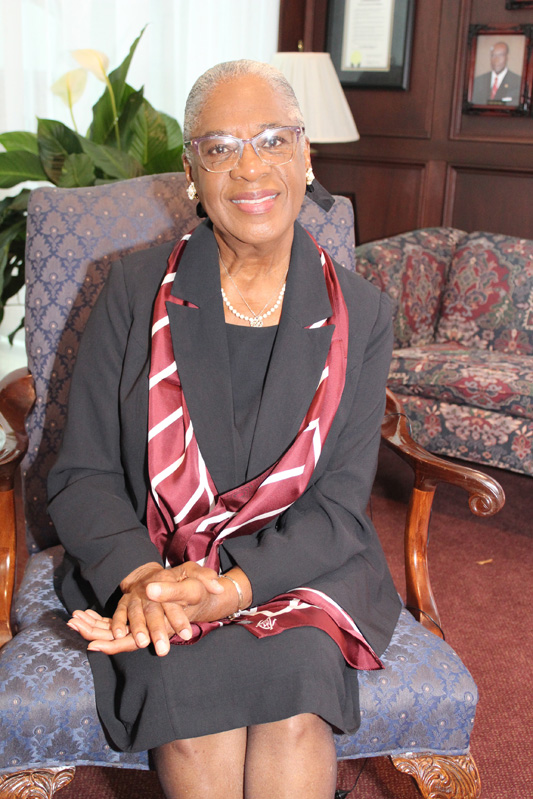 December 06, 2019
Donzella's Diploma a Gift to Supportive Late Husband
When the more than 400 Alabama A&M University undergraduate and graduate students walk across the stage to receive their degrees on Friday, December 6, positioned proudly among them will be an 80-year-old social work major from Birmingham, Ala.
Donzella Washington was born in Memphis, Tenn., but was raised in Los Angeles. While in California, she met her husband, a tall, handsome man from Bakersfield, at a church. They had both been praying for a special person to enter their lives, and she truly believes the Spirit led them to each other.
The couple lived on a farm in Pixley, Calif., located in Tulare County, between Bakersfield and Fresno until his death. During their decades on the farm, however, some 30 foster children, intertwined with their own, called the farm home and left to make their marks on the world. That lot now includes an attorney, radiation technologist, master electrician, professor and other professionals.
Washington recalls that as a child she stuttered badly, and it had a major impact on her self-esteem. She eventually overcame it, but she was well into her thirties and had to take four speech classes at the College of the Sequoias to defeat the problem. In the end, she slowly gained her confidence and was able to manage her thoughts and to be patient with herself.
In her early adult years, her loving husband was always there for her, she said, encouraging her to take bigger steps and to broaden her horizons. Although she ventured into real estate at a local bank for 18 years, she never really found the time to complete a college degree.
After her husband died, Washington eventually moved to live with her daughter in Fultondale, Ala., a northern Birmingham suburb. She later read about a satellite program that AAMU operated on the Lawson State Community College campus down in Birmingham. Soon, she started taking courses in 2013, testing the waters with just a course or two.
On Friday, December 6, at the Von Braun Center at 1 p.m., Washington will achieve a dream she dedicates to her late husband. She will receive her degree in social work, graduating magna cum laude with a 3.64 GPA. She achieved a 4.0 during her final semester.
In an interview conducted with Washington by AAMU President Andrew Hugine, Jr., the 80-year-old said she wants to inspire the old and young to believe in themselves and their ability to achieve.
When asked about her next step, she told Dr. Hugine that she can envision herself going into nursing homes on a quest to inspire others. She added that she has even considered returning for her master's.
- Photo & Text by Jerome Saintjones