Army Awards Additional $4M to AAMU Scientists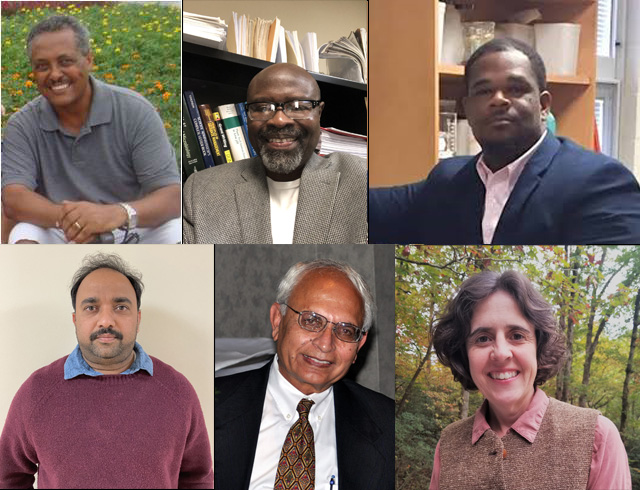 November 05, 2021
Enhancing Earthen Structures
A new cooperative agreement from the U.S. Army Engineer Research and Development Center (ERDC) has expanded upon an ongoing cooperative agreement between ERDC and Alabama A&M University (AAMU). The addition of this $4 million award brings the total awards between ERDC and AAMU for this program to $9 million.
AAMU scientists—(from top, l-r) Drs. Wubishet Tadesse, Zachary Senwo, Dedrick Davis, Venkateswara Sripathi, Govind Sharma and Dawn Lemke, along with graduate students, will use this additional award to implement field activities investigating soil systems to enhance earthen structures to support military missions.
Earthen structures are critical systems directly associated with military missions especially on battle fields to serve as barriers, protective berms, defensive positions, military trainings, and battlefields operations. Potential vulnerabilities and sabotage of these structures are imminent dangers to American troops.
Moreover, earthen structural constructions are usually constrained by logistics associated with the use of such non-native materials as cement or off-site acquired soils. However, most native soils have properties that make them weak construction materials for these important structures.
AAMU laboratory and field research endeavors, however, are focused on innovative uses of soil microbiological systems and microbially-produced biopolymers/bio-based additives to enhance native soils for such structural constructions and capabilities.
In a Nutshell
AAMU scientists will: (1) begin field experiments to evaluate biologically produced biopolymers, investigate the impacts of biopolymers on soil organic carbon, nitrogen, and sulfur hydrolysis, cycling, and utilizations in biopolymer-amended soils; (2) evaluate nanocomposites from clay, cellulose, nanofibrils, and poly-epoxy-acids derived from suberin monomers; and (3) employ civil and structural engineering techniques to evaluate materials produced as soil enhancers/stabilizers in mitigating enemy battle threats. Geo-referencing techniques will quantify the adaptability of biological processes to changing environmental conditions.
The field research is divided into three major tasks: (1) microbial-mediated geochemical cycling in biopolymer-amended soils; (2) field evaluation of biopolymers on soil physical properties and processes; and (3) remotely sensing/geo-referencing to quantify potential impacts of biologically mediated amended soils.
The cooperative agreement will result in enhancing AAMU's research and training of a new generation of professionals, especially African-Americans, with inter-disciplinary mindsets in various disciplines, including engineering, material and environmental sciences, soil biogeochemistry/physics for military constructions.
ERDC researchers will leverage AAMU's talent pool, and laboratory and field facilities in the collaborative evaluation and validation of the proposed soil amendment approach. The ERDC/AAMU collaborative work will focus on the evaluation and validation of techniques to conduct soil modifications using biological systems and materials to enhance the effectiveness of constructed earthen structures.
Researchers of the ERDC will also work with AAMU researchers and students in collaborative validation projects on soil enhancement by combining classroom-based education with hands-on, practical field evaluation experience at the ERDC, AAMU, and at TBD sites.
The partnership is both beneficial and in adherence with the US DoD's Education Partnership Act which authorizes and promotes partnership agreements between defense laboratories and educational institutions for the purpose of enhancing studies in various scientific disciplines.
For additional information, contact Dr. Wubishet Tadesse at wubishet.tadesse@aamu.edu.
###