Major Performing Arts Conference Around the Corner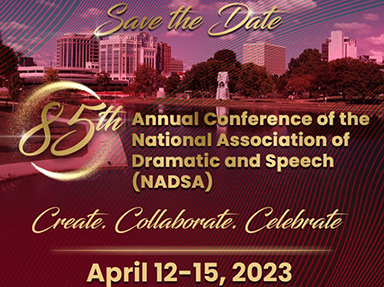 March 23, 2023
Major Performing Arts Conference Around the Corner
Alabama A&M University will host the national, four-day performing arts conference for an organization whose alums include such stars as Samuel L. Jackson, Taraji P. Henson and the late Chadwick Boseman.
In partnership with Art City Institute and Coppin State University (Maryland), AAMU will host the 85th annual conference of the National Association of Dramatic and Speech Arts (NADSA) April 12-15. Focusing on the theme "Create. Collaborate. Celebrate." Organizers anticipate that more than 200 students, faculty, staff, alumni and guests affiliated with the performing arts will attend.
"There's a lot of work going on behind the scenes," according to Darryl Wormley of Art City Institute. He added that Disney represented are expected to attend the four-day event for recruiting purposes and to provide other opportunities for participants. Activities from the organization will be conducted from the Hugine Complex, added Wormley.
Wormley also noted that this is NADSA's first time ever on the AAMU campus and only its second time in the state of Alabama since being hosted by Tuskegee in 1961. With a membership that includes primarily historically black college and university (HBCU) students, faculty, staff, alumni and performing arts enthusiasts, NADSA is considered the oldest such educational theatre organization in the United States.
Participants from 12-15 HBCUs will attend workshops, competitions, performances and sessions, concluding with an awards ceremony on Saturday, April 15. Moreover, NADSA provides opportunities for networking, building skillsets and sharing best practices in the field. Representatives from the local Toastmasters organizations will conduct a workshop and serve as judges for certain sessions.
Art City Institute (ACI), founded in 2005, is a multicultural, 501(c)(3) approved, community-based organization in Huntsville, Alabama. The organization's mission is to promote the pursuit of excellence through engagement in the performing arts. Based in Baltimore, Coppin State University is an urban, comprehensive, and Historically Black Institution founded in 1900. Its Visual and Performing Arts unit serves as the administrative host for NADSA.
Registration for NADSA 2023 is open. To register for the in-person conference (members and nonmembers), visit the NADSA website. The conference hotel is Embassy Suites in Huntsville, Alabama. To receive the NADSA Conference group rate, click the link: NADSA Conference 2023.
For more information, contact Dr. Garey A. Hyatt, president, National Association of Dramatic and Speech Arts (NADSA), at ghyatt@coppin.edu or (410) 951-3369 or Darryl Wormley at (256) 503-2659.