AAMU Announces Homecoming Grand Marshals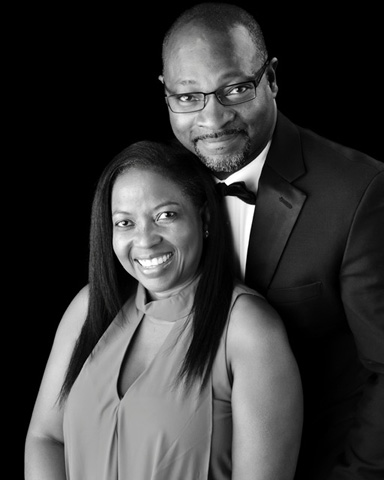 September 27, 2021
Meet Michael and Chala Ford
An ambitious and entrepreneurial couple will represent the best and brightest among Alabama A&M University alumni. That's when the dynamic duo will serve as 2021's Grand Marshals at the annual Homecoming Parade scheduled Saturday, October 9, along Meridian Street, at 8 a.m.
Michael and Chala Ford are the owners of MT3 Properties, LLC.  Michael also is the corporate vice president and a partner of Microsoft's Global Real Estate and Security organization. He enables every person and organization at Microsoft to achieve more by delivering connected, accessible, and sustainable workplaces in a secure environment.
His extensive duties involve the planning, delivery, operations, and security of Microsoft's worldwide multibillion-dollar real estate portfolio, which comprises over 38 million square feet across 113 countries. Michael directs the full scope of the real estate life cycle activities, including planning (i.e., portfolio, country, site), acquisitions and dispositions, transaction management, design/construction, and facility/services operations. Under his leadership, the team uses Microsoft technology to create innovative real estate and security solutions that increase operational efficiencies, lower costs, improve the employee workplace experience, and further reduce the company's environmental impact.
Before joining Microsoft in 2005 as the Director of Global Shared Services, he accrued several years of business and financial management experience as Director of Finance and Accounting Shared Services with Spherion Corporation, Director of Accounting Services at ANC Rental Corp. (Alamo Rent-A-Car and National Car Rental), as a controller at Aramark Services, and as a major in the United States Marine Corps.
He currently serves on the corporate board of directors for DIRTT Environmental Solutions (DRTT) and sits on several real estate and security advisory boards. He is also a member of the board of directors for Forterra and a former member of the Seattle-King County Crisis Clinic board of trustees. Michael received his B.S. in finance from Alabama A&M University in 1988 and his M.B.A. with a concentration in accounting and international business from Florida Metropolitan University in 1999. He is also a member of Omega Psi Phi Fraternity, Inc.
Chala brings a different set of skills and experiences, emphasizing her communications and customer service background. She has spent the last 25 years working in television programming and advertisement. Chala's greatest joy comes from loving her family; she and Michael raised one son, Michael, and two daughters, Mone' and Maya. They created a home where self-discipline, compassion, excellence, and love for one another fostered and thrived. As their nest became empty, Chala obtained employment with Microsoft Corporation. This experience gave her incredible customer-care skills that she currently leverages at MT3 Properties LLC as the Chief Administrative Officer. Her daily activities include developing Winchester Place – Cabins & Apartments and the Swan House Event Center, owned and operated by MT3 Properties, LLC. Chala received her B.A. degree in telecommunications from Alabama A&M University in 1987.
 Together, their family motto is, "Faith, family, education and hard work equals a good life." They are true partners in all things at home and work. They share a zest for social involvement, entertainment, philanthropy, travel, and the gift of drawing friends into their lives. Their bond comes from the importance of giving and making a difference in other people's lives.