Alum Credits AAMU for Radio-TV, Writing Career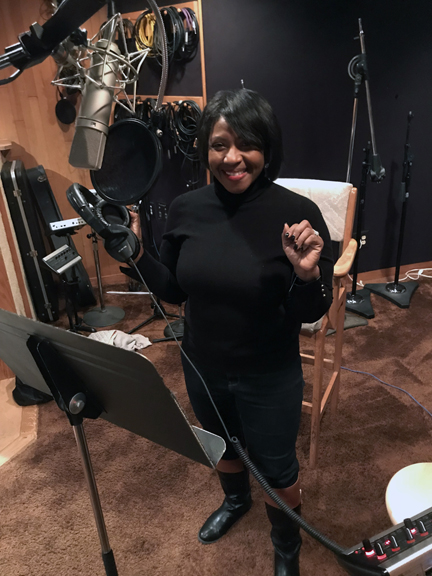 May 21, 2021
Children's Book Author Hoping for Animation Series
Annette Gomes, a 1997 Alabama A&M University graduate, got her first start in radio thanks to WJAB-FM news director Erica "Fox" Washington. That humble start soon blossomed into Gomes' foray into reporting, anchoring and stints as a talk show host.
The Barbados, West Indies native says she knew at the age of five she was destined to be in the creative arts or television.
"I migrated to Glencoe, Illinois, at age 5," she recalled. "It was a foreign world to me, and I was raised in a predominately Jewish area. I spent the next 13 years in Highwood/Highland Park, Illinois." Nonetheless, Gomes claims the foreign world made her determined, driven and, more importantly, even prouder or her differences.
"I was told that I talked funny," Gomes said. "Along the way, I learned that what you're mercilessly teased about is probably your gift. Everyone has a gift. I opened mine, and I've never looked back."
Although the dream of venturing into television stayed in the back of her mind, commodity trading appeared to be a dominate occupation in Highland Park, Illinois, and Gomes became intrigued. She toyed with the idea of becoming a commodities trader. Economics was a little tough at times for the budding trader, but she worked hard and it paid off. She convinced her high school economics teacher to enroll her in a summer internship program at the Chicago Board of Trade.
"After one day in the trading pit, I realized that becoming a commodities trader was not for me," said Gomes. "However, I still wanted to remain connected to the field and studying at a land-grant university would ensure that goal."
Gomes would go on to earn a B.S. degree in agricultural economics from Fort Valley State University, followed by an M.S. degree in agribusiness management at AAMU, where she met her mentor—Dr. Duncan Chembezi, professor and director of the Small Farms Research Center—and Erica Washington, news director for WJAB-FM on the AAMU campus.
"God has a way of pulling you into your destiny," stated Gomes. "In 1995, I was hired by the Small Farms Research Center on AAMU's campus. During an interview on WJAB-FM, an English professor called and said, 'Tell that girl she needs to go into communications,'" Gomes laughed. "I think she was really impressed with my voice; I guess you could say that's how I was discovered."
She began reading the commodities report for the local farmers for about a year, until Dr. Chembezi convinced her to enroll in the journalism program at the University of Missouri. She earned a B.S. degree in agricultural journalism–broadcast sequence. As a student, she reported for KOMU-NBC in Columbia, Mo., and later for CBS in Macon, Ga., intermittently for 15 years.
"I will always be grateful to AAMU, Dr. Chembezi and Erica 'Fox' for that launching pad," said Gomes.
Much like most career moves, Gomes fell into her next venture. An avid animal lover, Gomes volunteered at Critter Fixer Animal Clinic in Byron, Ga. This move would open up another career move for her—authoring children's books.
"I would often take my three-legged fur baby Bailey to the animal clinic and in classrooms, so she was always the topic of conversation," Gomes began. One day, the co-owner of the veterinary clinic, Critter Fixer in Middle Georgia, Dr. Terrence Ferguson, informed a third grade class that his mother challenged him as a boy to show his devotion to this beloved profession by correctly spelling the word veterinarian. Ferguson also stressed to the class that he had not even seen a black veterinarian as a child growing up in Talbotton, Ga.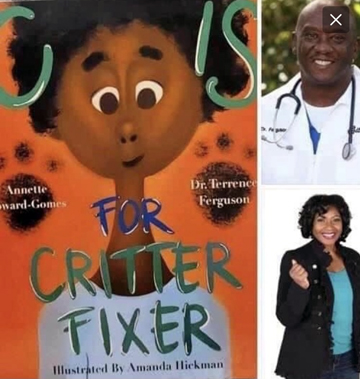 Gomes said she returned to the office, wrote the story based on Dr. Ferguson's life and placed the story on a thumb drive in 2015. The book showcases Dr. Ferguson's love of animals, his mother's encouragement and his determination to become a veterinarian. Although his passion is real, he has had problems finding a role model who looks like him.
In 2019, Dr. Ferguson and his business partner Dr. Vernard Hodges, were tapped to appear on NATGEO's "Critter Fixer Country Vets" and the rest, as they say, is history. Although she wrote the book in a day, she admits she revised it 10 times during 2020.
"The takeaway to my story is that you should never give up on your dreams," Gomes said. "Besides, God has a way of making them come into fruition, so you really don't have a choice."
Meanwhile, the Washington D.C.-based author is busy as ever as the owner of WUT A VOICE Communications, a voice over business that allows her to contract out her voice. From the National Museum of African American History and Culture to Pfizer, the business keeps her busy. She is also a writer for the Department of Defense. Lastly, she recently completed an associate producing/voice over stint for the film "Garage," a true story about a kidnapped and abused child, set in the late 1970s.
Ferguson and Gomes are in talks to turn the book into an animated series and the follow up sequel to "C is for Critter Fixer" is complete.
- J. Saintjones