A&M Partners with Urban League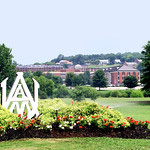 February 24, 2021
Local Food Distribution Effort Scheduled
Alabama A&M University has partnered with the Urban League to distribute food to deserving families throughout Huntsville. The distributions will take place on Saturday, February 27, 2021, from 8:00 a.m. to 10:00 a.m. Families with transportation are encouraged to use the drive-thru pick up in the visiting parking lot of Louis Crews Stadium on the Alabama A&M campus. Entry to campus will be via Industrial Drive only.
"Saturday's food distribution provides AAMU with the opportunity to live our motto, Service is Sovereignty. It also provides our student volunteers with an opportunity to serve the community in which they live," said Monica Clarke, Director of Service Learning at Alabama A&M University.
The partnership is a part of the Urban League's expansion into Huntsville, and it is the first food distribution of many to come.
"The Urban League is pleased to offer services that are meaningful and impactful within the Huntsville Metro Area. By engaging community partners like Alabama A&M University and the Huntsville Housing Authority, we feel confident in our collective ability to serve communities in need," said Archie Tucker, II, Urban League Board of Directors and AAMU Vice President for Marketing, Communication & Advancement.
Aside from the campus drive-thru, several Huntsville Housing Authority communities will serve as distribution points for residents that live on site only. Resident distribution sites will include: Butler Terrace and BTA; L.R. Patton; Brookside; Northwoods and NWA; Lincoln Park; and, Searcy Homes.
Antonio McGinnis, Executive Director/CEO of the Huntsville Housing Authority stated, "This food distribution is happening because someone thought kindly and saw a need, then reached out to people who knew someone who could fill that need. I am humbled and excited as we partner with the Urban League and Alabama A&M University to provide a food distribution system that will last for several weeks."
Other key partners include The Legacy Center and Madison County District 6.
For more information concerning the drive-thru distribution at Alabama A&M, please contact Monica Clarke at monica.clarke@aamu.edu or 256-372-4710. For information regarding distribution at the Huntsville Housing Authority Communities, please contact Patrice Boddie at pboddie@hsvha.org or (256) 532-5630.