Ribbon Cutting Set for Extension Mobile Labs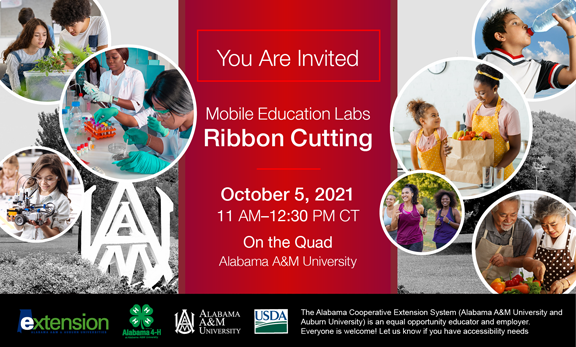 October 05, 2021
Modern Wheels Still Roll
As a land-grant university, the mission of Alabama A&M University (AAMU) involves the delivery of research-based information to communities. The late scientist George Washington Carver used the Jesup wagon, for example, to educate farmers about the latest agricultural practices. Today, modern wheels still roll into communities to educate audiences of all ages.
On Tuesday, October 5, the Alabama Cooperative Extension System at AAMU will officially launch the opening of two mobile labs: one for Science, Technology, Engineering and Mathematics (STEM) education and one for nutrition education. To mark the event, a ribbon cutting ceremony will be held from 11 a.m. to 12:30 p.m. on The Quad of the AAMU campus.
"Alabama Extension at Alabama A&M is proud to kick off the grand opening of two mobile labs for STEM and health education. Both labs will help us to not only reach underserved populations but to advance key STEM and health objectives critical to the state of Alabama," said Allen Malone, Extension director at AAMU.
The public is invited to tour the mobile labs and to stop by other exhibits featuring Alabama Extension programs and services.
For more information, contact Celvia Stovall at (256) 763-1862 or e-mail ces0038@aces.edu.
Visit www.aces.edu/urban to discover more of what Alabama Extension offers, or visit www.facebook.com/AlabamaExtensionAAMU.