AAMU President Participates in NASCAR Initiative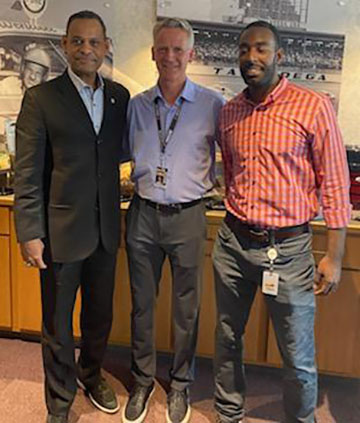 April 29, 2022
The Value of Diversity
Alabama A&M University President Daniel K. Wims said he is optimistic about the many possibilities behind a recent NASCAR Diversity Initiative he attended at the Talladega Superspeedway. AAMU Trustee Nichelle Gainey also attended and participated in the activity.
Dr. Wims experienced firsthand the potential AAMU student benefits presented during the NASCAR Diversity & Inclusion Educational and Economic Impact Program Meeting in conjunction with the Geico 500 Car Race. Recognizing the value of diversity, the NASCAR initiative aims to develop an environment of inclusion in all facets of the NASCAR industry. The initiative, which lists the United Negro College Fund (UNCF) among its partners, has three major components focusing on internships, "Drive for Diversity," and supplier diversity.
President Wims had an opportunity to keenly listen to presentations on job opportunities and HBCU student internships pitched by Brandon Thompson, an HBCU alumnus and NASCAR vice president of diversity and inclusion. Other presentations were given by Jordan Leatherman, manager of Drive for Diversity internships; and Brian Crichton, Talladega Superspeedway president. Another key presentation delved into "Building Inclusive and Impactful Economic Partnerships in the Birmingham Market."
Wims said the important meeting opens new doors to a wide variety of experiences available to AAMU students. These opportunities are being continuously channeled through the Career Development Services unit on the AAMU campus, he said.
PHOTOS: President Wims (left) is joined at Talladega Superspeedway event by NASCAR President Steve Phelps and Brandon M. Thompson, VP, Diversity & Inclusion, NASCAR.