State Senator Receives Presidential Medallion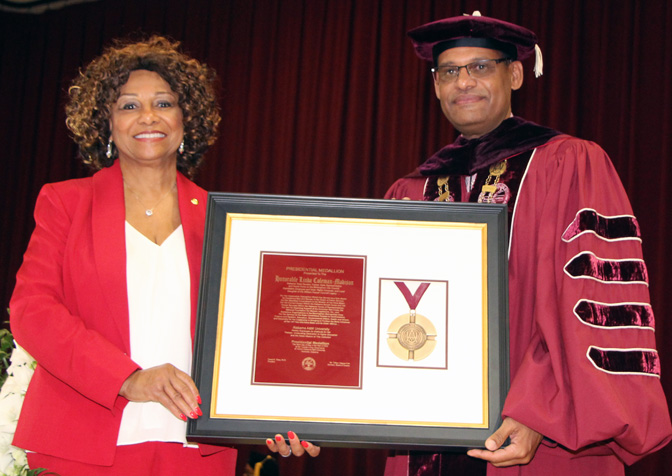 May 06, 2022
Linda Coleman-Madison: Passing the Torch
After greeting the Golden Class of 1972, Alabama State Senator Linda Coleman-Madison noted the many campus improvements at Alabama A&M University, her alma mater, during her presentation for its recent 147th Annual Founder's Day program.
Senator Coleman-Madison told the audience gathered in the T.M. Elmore Building that great works begin with great foundations, and that A&M was a bedrock. She noted the importance of remembering the heritage of the University's founder and forefathers, as well as the importance of making certain that "the torch is passed" on to future generations.
The alumna said A&M began during distressing times. She then shared a history of certain events which occurred in 1875, when William Hooper Councill founded the institution. Coleman-Madison called Councill a person of vision, commitment and fortitude, one who achieved much during the tumultuous times that witnessed immense separation, a civil war, and scarcity of quality education for African Americans. Despite the setbacks, she said Councill helped to start the Lincoln School in 1870 and used and expanded his education in the advancement of his people.
"Always hope, even in the darkest places," said Coleman-Madison. "Without the Councill dream, we would not be here today. We must be committed to making sure that the light continues for generations to come."
Following her speech, President Daniel K. Wims presented Senator Coleman-Madison with the Presidential Medallion.