AAMU Dining Hall Named for Long-time Director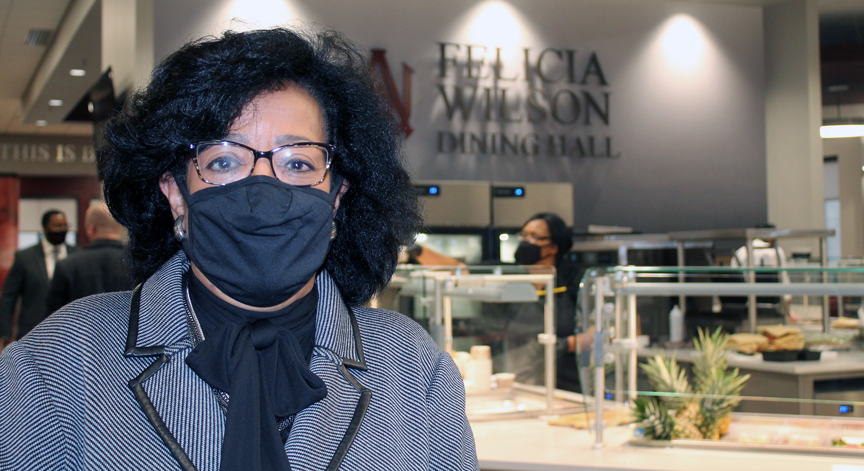 January 21, 2021
Felicia Wilson Honored for 53 Years of Service
Alabama A&M University and Aramark Higher Education officials, students, faculty, staff, alumni and other representatives were on hand Thursday, January 21, to attend a special ribbon cutting ceremony. PHOTOS
The newly renovated dining hall, located in the Ernest L. Knight Complex, was named the Felicia M. Wilson Dining Hall. Felicia Mastin Wilson has served within the food service component on the campus, primarily as director, for more than 50 years.
Clayton Gibson, AAMU senior vice president for finance and administration, presided over the ceremony. Tributes were presented to Wilson from President Andrew Hugine, Jr., First Lady Abbiegail Hugine, campus administrators, trustees, students, alumni, church (Saint Bartley PB Church Pastor James Mooney), Aramark staff and executives (Aramark Higher Education President and CEO Jack Donovan), local organizations and family members.
"This dining facility serves as a hub of our students' socialization and their physical well-being by providing healthy and nutritious meals," said President Hugine. "The renovations represent the culmination of months of work and planning on the part of Mrs. Wilson and her staff, Mr. Brian Shipp and Facilities Management, Business Affairs, Student Affairs, as well as much input along the way from AAMU students."
Hugine went on to praise the board for its role in providing services, programs and facilities that contribute to the intellectual and social development of students. The ribbon cutting served as a reopening of the dining area in addition to the naming of the facility. Hugine also lauded Wilson who, he said, viewed her service as a calling.
Dr. Jerome B. Williams, president pro tempore of the AAMU Board of Trustees, congratulated Wilson and recalled his student days at AAMU in 1962-63, when the school had erected Prentice Dining Hall (now no longer standing).
"We are overjoyed for the reopening of the newly renovated Felicia Wilson Dining Hall," said Japhe Jelks, executive president of the Student Government Association. "We are forever grateful to Mrs. Wilson and her team for everything they have done for us, making our dining experiences what they have been thus far—new look, food options and even the new celebrity chef manager and alumnus Cameron Dangerfield … We are excited to have our favorite dining hall open again."
First Lady Hugine commented that the food service area under Wilson has been run "like a well-oiled machine" since her arrival on campus. "Mrs. Wilson and her staff go out of their way to make the students here feel at home."
"Our honoree, Felicia, has enhanced the lives of so many people, and by doing so has nurtured this University, her community and her family, and has touched people around the world through the example she provides for us all," stated Aramark Higher Education President/CEO Jack Donovan.
Wilson is a native of Huntsville, Ala., who attended William Hooper Councill and S.R. Butler high schools, and AAMU, where she earned a bachelor's degree. She has been active in numerous organizations, including The Links Inc. of Greater Huntsville, Epsilon Gamma Omega chapter of Alpha Kappa Alpha Sorority, Inc., and many others. She has also served on many local boards and countless committees on- and off-campus.
A member of Saint Bartley Primitive Baptist Church, Wilson is married to Wester "Bob" Wilson, and is the mother of four—Sonjia, Mark, Monique and Eve—and the grandmother of three (Alex, Preston and Emery).
To view the video captured by AAMU's Electronic Media Communications staff, click HERE.