AAMU Professor Recognized for Role as Judge in UAE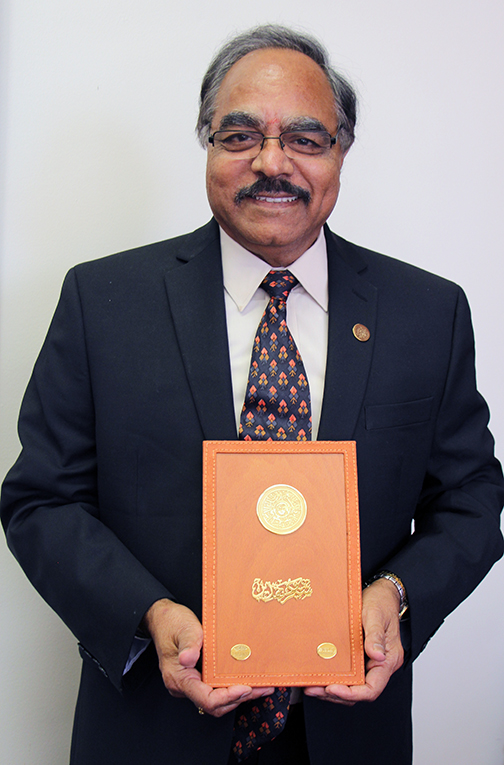 November 07, 2022
Praise in Abu Dhabi
A recent international academic, medical and scientific awards ceremony in Abu Dhabi not only attracted learned men and women from all over the world, but it also relied on the many attributes of an Alabama A&M University faculty member, who was sought to serve as an expert.
Dr. Srinvasa Rao Mentreddy, AAMU professor of biological and environmental sciences, was invited to play a key role and to help ensure the integrity of the 2nd Sheikh Zayed International Award for Traditional, Complementary and Alternative Medicine in October 2022 in the United Arabs Emirates (UAE). The major award is named in honor of the late Sheikh Zayed bin Sultan Al Nahyan, the UAE founder and statesman credited for major contributions to healthcare around the world.
The award for which Mentreddy determined deserving recipients is designed to both foster and recognize excellence among academics, physicians and scientists for their unique roles in improving the quality of life through one of the key aspects, or modalities, of medicine.
For his valuable contribution to the success of the ceremony as a reviewer on the Scientific Committee for Research, Dr. Mentreddy was presented a coveted award by conference organizers, including officers of the Lotus Holistic Institute and the International Conference on Quality and Evidence-based in Prophetic Medicine.
Taking advantage of his proximity to Kuwait, Mentreddy also visited the Kuwait Institute of Scientific Research, where he visited the Center and discussed research collaborations focusing on turmeric and basil.
A few years prior to serving on the scientific committee, Dr. Mentreddy reviewed a 400-page encyclopedia of medicinal plants in the United Arab Emirates published by the Sheikh Zayed International Center for Traditional, Complementary, and Alternative Medicine.