Foster Dining Hall Reopens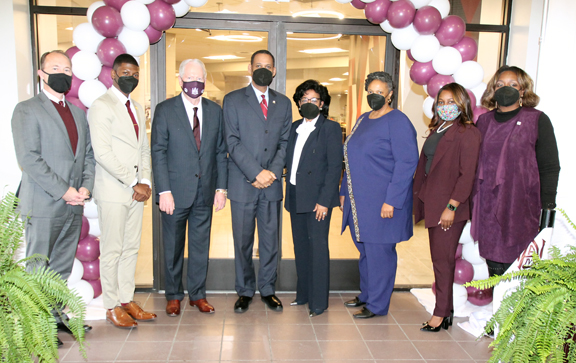 January 24, 2022
Ribbon Cutting: Increasing Dining Capacity
After a nearly 18-month closure for renovations, Alabama A&M University's Mamie Labon Foster Dining Hall has reopened, significantly expanding dining options for students. PHOTOS
During his welcome and acknowledgements at a brief January 19 ribbon cutting ceremony, President Daniel K. Wims praised the Aramark Food Service team, AAMU's Physical Facilities, Business and Finance, and Student Affairs units for their dedicated "work and planning" in bringing the project to fruition. [Electronic Media Communication's VIDEO]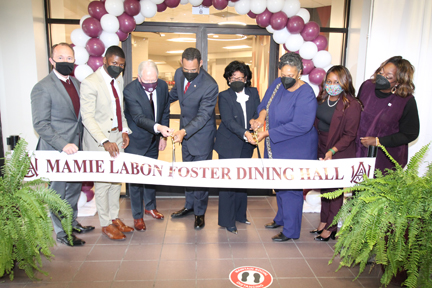 Wims added that students were given the opportunity to provide their input in the design for the $2 million renovation project, as well. The project entailed the replacement and reconfiguration of serving equipment/counters,doors, HVAC and plumbing systems, and new finishes throughout a 7,400-square-foot area. The Foster Dining Hall makes meals more accessible to student residents on the east side of the AAMU campus.
Trustee Richard Crunkleton said the newly renovated facility "will enhance the dining experience, the study experience and the overall experience at Alabama A&M University," while also serving as an important tool to enhance the quality of life."
The Mamie Labon Foster Living/Learning Complex, in which the dining hall is situated, was constructed in 1993. The five-story residence hall currently houses 500 first-year male and female students. Each apartment suite has two bedrooms and living space for four students, who share a common living room and kitchen area.
"Today is a good day for the students of this university, and it's been a long time coming," said Austin Smith, trustee and executive president of AAMU's Student Government Association. He went on to thank his fellow students for their patience and resilience throughout the past year. He called the cafeteria "better than ever." Smith urged students to "not take the memories you'll make here for granted, because they'll truly last a lifetime."
"The core values and strategic priorities of this institution align very well with this project," said Alisdair MacLean, a 26-year regional vice president for Aramark Higher Education. "We will strive for excellence in everything we do."
Felicia Wilson, director of food services for Aramark at AAMU, announced that "full services to include the much-awaited dine-in option" would resume January 20.
"Since the mid-1990s the Foster dining facility has provided a modern and more intimate setting that is readily accessible for students residing on the east side of the campus," stated Wilson. "Due to COVID protocols, the average meal service in the newly renovated facility will accommodate about 275 students. However, when operating at full capacity, the facility's number can expand to about 350 students."
The Living/Learning Complex was named in honor of Dr. Mamie Labon Foster. Born June 12, 1912, in Rosedale, Ala., she completed studies at Alabama A&M Institute High School and received the junior college diploma and B.S. degree (1946) in elementary education from what was then Alabama A&M College. She completed two master's degrees from Teachers College, Columbia University in New York., Dr. Foster served over 46 years in the demanding field of education in the Jefferson County (Ala.) school system. Moreover, she taught courses at Daniel Payne College and AAMU's former Birmingham Extension Center, and became president pro tempore of AAMU's Board of Trustees.
Other program participants included Dr. Lynda Batiste, interim vice president for business and finance, who served as presider; and Dr. Brittany Holloman, interim associate vice president for student affairs.
- J. Saintjones
CAPTION: Pictured (l-r) are: Alisdair MacLean, regional vice president for Aramark Higher Education; Trustee Austin Smith, executive president, Student Government Association; Trustee Richard Crunkleton; President DanielK. Wims; Felicia Wilson, food service manager, Aramark at AAMU; Dr. Lynda Batiste, interim vice president for business and finance; Dr. Brittany Holloman, interim associate vice president for student affairs; and Dr. Kyla Pitcher, interim vice president for student affairs.