M.AL.E. Initiative Holds First Luncheon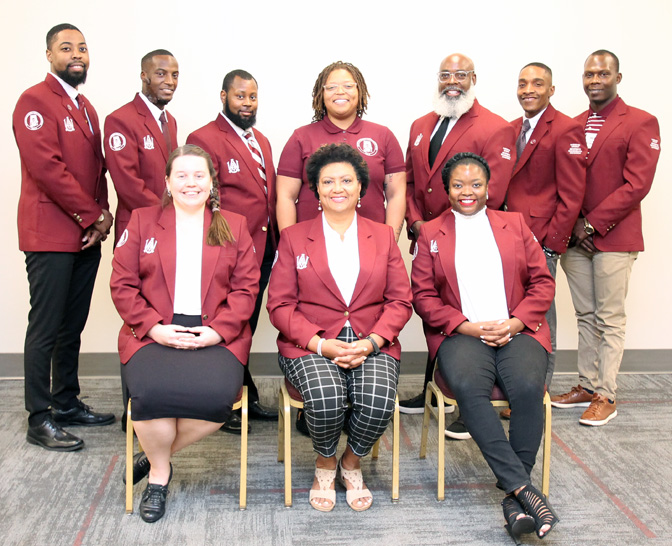 April 29, 2022
Pipeline to Males for Alabama Education
An Alabama A&M University program designed to attract minority males to the teaching profession within Alabama recently held its first annual luncheon to honor its scholars and to provide program updates.
The Males for Alabama Education (M.AL.E.) Scholarship Program hosted the luncheon on the AAMU campus on Saturday, April 23, in the Ernest Knight Center's VIP Room. Program scholars, along with the administrative team and supporters, attended a program set to honor the scholars, to offer updates about the program's progress, as well as to discuss the next steps for the initiative.
Housed in the College of Education, Humanities and Behavioral Sciences in the Department of Teacher Education and Leadership, the M.AL.E. Program focuses on the recruitment, retention and preparation of minority males to become PK-12 teachers in Alabama's public schools. Moreover, the program has provided tuition and other financial assistance for 20 minority undergraduate and graduate students since 2020.
For additional information about the M.AL.E. Initiative and scholarship opportunities, visit www.aamu.edu/malescholarship. Scholarships are being accepted for the 2022 summer and fall sessions.
_____________________
CAPTIONS:
Top Photo (l-r): Desmond Phillips, Jawonki Moseley, Keon Thomas and Dr. Lamont Croom (M.AL.E. Scholars). 2nd Photo: Seated (l-r): Nichole Louke, program academic advisor; Dr. Lena Walton, program lead; and Dr. Samantha Strachan, program director. Standing (l-r): Desmond Phillips, Keon Thomas, Jawonki Moseley, Vanessa Hudson (graduate assistant), Dr. Larry Collier (program coordinator), Dr. Lamont Croom and Dr. Ricardo Hill (program mentor).