AAMU Civic Engagement Efforts Make Forbes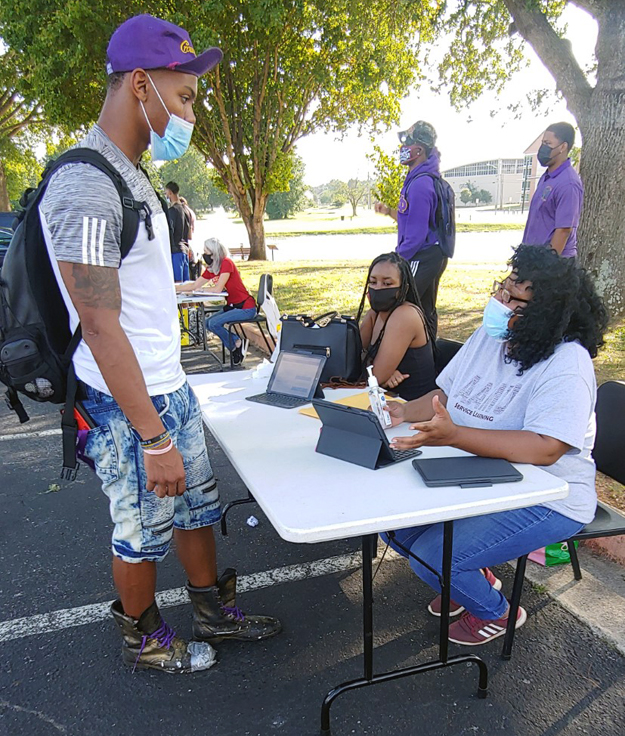 October 12, 2020
Making Voting King
Even throughout the often-dire impact of a global pandemic caused by the coronavirus, Alabama A&M University pounced early to ensure that its student body understood the power of civic engagement. Thus, the year 2020 on The Hill will not only be known for COVID-19 but for the fervent efforts of the University's Civic Engagement Team, as well.
Most recently, the team's strides were captured in an October 7, 2020, article written for Forbes.com by Clarissa Unger, director and co-founder of the Students Learn Students Vote Coalition. In her piece "College Campuses Are Leading the Way on Election Access," Unger praised the process of "layering" and noted how resident advisors at AAMU were being trained to answer registration and voting questions for students.
Spearheaded by Dr. Gary Crosby, vice president for student affairs, and ably facilitated by Monica Clarke, coordinator of service learning and civic engagement, AAMU launched its civic engagement efforts full-throttle with the insightful formation of the Civic Engagement Team.
"The residence hall effort was funded by a grant from SLSV," commented Clarke. "The Civic Engagement Team has worked tirelessly to implement the goals of the grant by engaging students in the residence halls in voter registration, voter education and voter turn-out."
Bringing even more expertise and activism to the group are WJAB-FM news and public affairs director Erica "Fox" Washington and Dr. Tonya E. Perry, professor and chair of the Department of Social Work, Psychology & Counseling. Perry is also the founding chair of the Coalition for Justice through Civic Engagement (CJCE). Other active members of the team are Jessica Temple, Martha Palmer, Diann Greer and students Amaya Rearden and Austin Smith.
For more about AAMU's student civic engagement efforts, contact Monica Clarke at (256) 372-4710.