Gallery Renovations Await Close of Turner Exhibit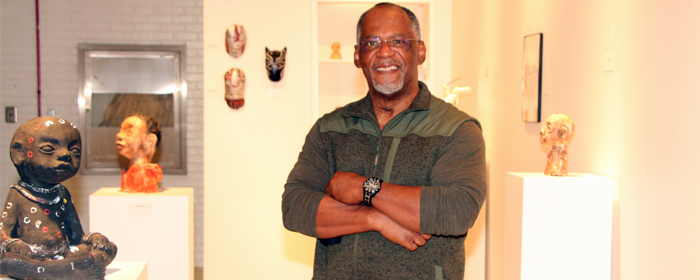 March 09, 2022
Turner's "Portrait of Life" Closes out Exhibit Season
The work of multi-talented local artist Harold Turner (see PHOTOS) will close out the scheduled exhibits of Alabama A&M University's Art Gallery in mid-March. Turner's exhibit, "Portrait of Life,"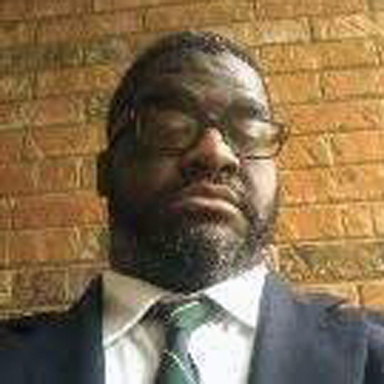 was displayed throughout Black History Month in Room 100 of the R.D. Morrison Fine Arts Building. According to the curator, Joe Washington, the Gallery will undergo some updates following the close of the Turner exhibit.
A native of Huntsville, Ala., and AAMU alumnus, Turner (left) is a figurative sculptor and painter who has exhibited widely throughout the South, including Panoply and the Monte Sano Arts Festival in Huntsville, Ala.; The Black Art Expo at Emory University and the Chastain Park Art Festival in Atlanta, Ga.; the Kentuck Arts Festival in Northport, Ala.; and Arts on the Commons in Kettering, Ohio, among others.
Turner was a student of long-time AAMU art educators Clifton Pearson and Oscar Logan. The ceramicist has established a studio at Lowe Mill in Huntsville, Ala., and he is often affiliated with the local Boys & Girls Clubs of North Alabama. Turner's "Portraits of Life" opened Friday, February 11, and were set to remain on display for the public through Friday, March 11.
The 750 sq. ft. gallery will be taken off-line by Bryan Shipp of AAMU's Physical Facilities unit to receive new, darker flooring, along with minor repairs and resurfacing of the exhibit walls, reported Washington, who is now in his 23rd year at the University. The next exhibit will reopen in the fall of 2022, Washington said.
CAPTION: Joe Washington, curator of the AAMU Art Gallery, invites AAMU Family and public to view the Harold Turner exhibit before it closes in mid-March. (Photo by J. Saintjones)