Honors Students Attend AHA Event, Hear Bryan Stevenson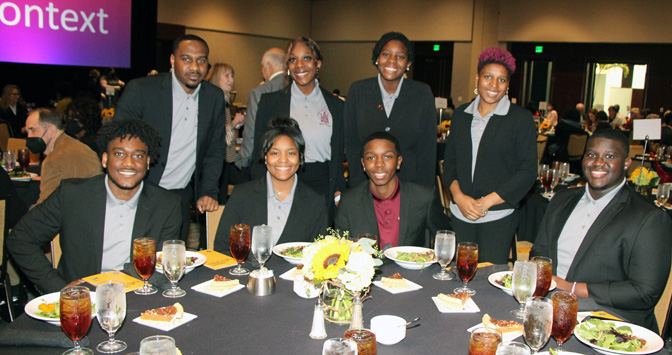 March 08, 2022
Honors Students Attend AHA Event, Hear Bryan Stevenson
Alabama A&M University Honors Program students joined a group of Huntsville residents recently to attend the annual meeting of the Alabama Humanities Alliance (AHA) in Montgomery, Ala. Huntsville-area residents Dorothy W. Huston and Dr. John F. Kvach serve on the 26-member AHA board. Regions was presenting sponsor.
The gathering honored two of AHA most recent Fellows: Bryan Stevenson ("Just Mercy") and the late civil rights icon John Lewis. Among the traveling guests were eight Honors Program students (above) from AAMU, including Amani Blair, Tomia Gordon (student lead), Rashad Harris, Demarieo James, Brandon Jenkins, Soniah Jones, Cassidy McClella and Mark Pecke. Their attendance was cordinated by Carla Draper-Holloway, assistant director of AAMU's Honors Program.
Stevenson, the honoree/guest presenter for the luncheon, is the founder and executive director of the Equal Justice Initiative, a human rights organization in Montgomery, Ala.
The Harvard Law School graduate is the author of the memoir "Just Mercy," which focuses on the injustices of the American legal system. Stevenson's presentation doubled as an interview between the attorney and NPR correspondent Michel Martin.
The family of the late John Lewis was invited to the stage during the program. The event also featured an original poem presented for the occasion by Alabama's new poet laureate, Ashley M. Jones.
Among the Huntsvillians in attendance were William Huston, Sr., Gary T. Whitley, Jr., Jalissa Williams, Morgan Saintjones (The Legacy Center) and Jerome Saintjones.
Based in Birmingham, AHA gives all Alabamians opportunities to explore the humanities through funded public programs such as seminars, workshops, lectures, exhibitions,
documentaries and more.