AAMU Observes Federal Employment Preparation Week

November 03, 2022
Keynoter: Major General Robert L. Barrie, Jr., PEO, Aviation, US Army
AAMU welcomed dignitaries to campus this week for Career Development Service's (CDS) Federal Employment Preparation Week.
More than 15 federal and state agencies set up information tables in the Knight Center Tuesday, November 1, including Army Civilian Careers, USDA Forest Service, United States Secret Service, Discovery Life Sciences and the U.S Coast Guard.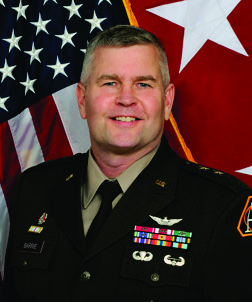 Major General Robert L. Barrie, Jr., the Program Executive Officer, Aviation at U.S. Army, gave the keynote address. After speaking to students, Barrie met and took photos with AAMU ROTC Cadets.
AAMU alum Dr. Joe Fitzgerald, civilian aide to the Secretary of the Army; Bulldog Battalion alum and retired U.S. Army Major General Patrick W. Burden; AAMU Board of Trustees member Chris Robinson and AAMU Provost and Vice President for Academic Affairs, Dr. John D. Jones, were also on hand.
Federal Employment Preparation Week continued into Wednesday with a Resume Writing Workshop Panel Discussion in the CDS Office, 101 Patton Hall. CDS also hosted Virtual Resume Reviews & Mock Interviews for three hours on Thursday.
Among the list of participating employers were: AAMU US Army ROTC; Army Civilian Careers; Bureau of Labor Statistics; Discovery Life Sciences; Fderal Highway Administration; Internal Revenue Service (IRS); Missile and Space Intelligence Center; Noblis; State of Alabama DHR; State of Alabama Personnel Department; The Washington Center; U.S. Coast Guard; U.S. Customs and Border Protection; United States Secret Service; U.S. Army Recruiting, Huntsville, Ala.; USDA Farm Production and Conservation; and USDA Forest Service.