AAMU Site of Cannabis Town Hall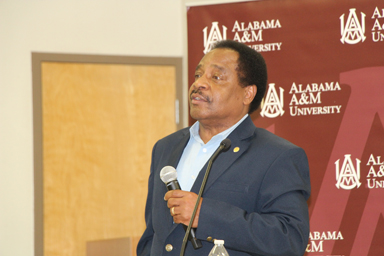 July 26, 2022
Discussing Myths and Facts about Medicinal Cannabis
The Winfred Thomas Agricultural Research Station was the site for a July town hall designed to discuss myths and facts about medicinal cannabis and its effect on society. PHOTOS
Industry experts joined community advocates to host an in-person and online town hall in person and online to discuss the impact of medical cannabis in Alabama. Patients, veterans, caregivers, community advocates and agricultural entities attended to learn more about the licensing process and how medical cannabis will impact the community. Organizers relied heavily upon the expertise provided by Dr. Rasean T. Hodge, a licensed physician practicing in Atlanta, Ga.
During May 2021, Governor Kay Ivey signed medical marijuana legislation into law, making Alabama the 37th state to adopt a medical cannabis program. The Alabama Medical Cannabis Commission is currently working to implement and administer the laws by making medical cannabis derived from cannabis grown in Alabama available to registered qualified patients and by licensing facilities that process, transport, test or dispense medical cannabis. Beginning September 1, 2022, a person may apply to the commission for a license for an integrated facility or for a license as a cultivator processor, secure transporter, state testing laboratory or dispensary.
Alabama A&M University has been a major part of initiatives designed to foster ways for minorities to enter the Cannabis industry and to take on Social Justice, Diversity and Inclusion as it relates to the Cannabis enterprise. Among the attendees were Jerry Mitchell, Alabama Black Chamber of Commerce; Juandalynn Givan, Alabama State Representative; Reggie McKenzie, North Huntsville Business Association; and AAMU alumnus Antoine Mordican, CEO of Native Black Farm.
"It is important to facilitate community crosstalk about cannabis so that the public can be well informed and support all aspects of education from the agricultural perspective to safe patient use and community law," stated Air Force veteran and medicinal cannabis advocate Aretha Dix.
Subsequently, "the human toll of the Drug War in the United States had its greatest impact on the minority communities, and the lasting consequences have created a class of marginalized citizens with few opportunities for upward mobility," according to Dr. Ernst Cebert, responsible for plant breeding and genetics, as well as renewable energy, at AAMU's Winfred Thomas Agricultural Research Station, located in Hazel Green, Alabama.
Event hosts included the Alabama A&M University Winfred Thomas Research Station, LeBleu Fields Business Solutions, LCC and GaiaBox.
____________________
CAPTION: Dr. Lloyd Walker, dean of the College of Agricultural, Life and Natural Sciences, addresses persons gathered for town hall at the Winfred Thomas Agricultural Research Station in Hazel Green, Ala.