Alumni Affairs Director Guest on Podcast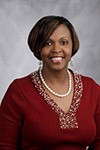 September 24, 2021
Engaging Alums
The director of the Office of Alumni Affairs at Alabama A&M University will be the featured guest for the Start and Go podcast scheduled to air on Wednesday, September 29, at 1 p.m. on WJAB-FM 90.9.
Sandra Stubbs leads the University's Office of Alumni Affairs, where she leads the strategic direction and operations, which include programs, volunteerism, budget management, and alumni engagement.
Before joining AAMU in September 2010, Stubbs served as the vice president/district service and operations manager for 19 retail bank branches of BBVA Compass in North Alabama. She was instrumental in reducing employee turnover and managing branch cash operations, staffing, and customer service.
Stubbs holds a master's degree in business administration and a bachelor's degree in accounting from AAMU. She is married to Herman Stubbs, an alumnus of AAMU. They have one adult daughter, Kaila.
The episode, hosted by Dr. Archie Tucker, vice president for marketing, communication and advancement, will replay on WJAB-FM 90.9 on Friday, October 1, at 8:30 a.m. New podcasts are available on all social media podcast platforms at midnight each Wednesday.