Chauncy's Chances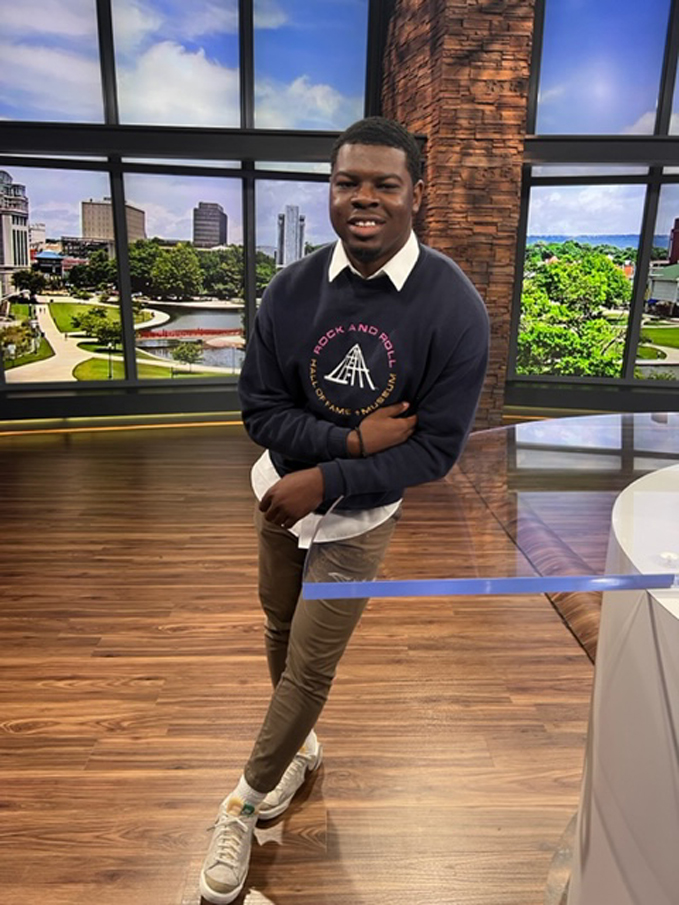 August 03, 2022
From Bulldog Play by Play to LA Rams Internship
A communications media major's enthusiasm for learning and trying new things via Alabama A&M University athletics has opened some impressive doors.
When it comes to covering sports on The Hill, there are few things that senior Chauncy Deion Sanders has not done. After Chauncy got his humble start covering Bulldog football, Michael Morns— just one on his list of mentors—asked him to serve in a new role when another regular couldn't make it. Almost instantly, Chauncy emerged into a fixture, adding context to the sport of basketball, expertly performing as a play-by-play announcer for the men's and women's squads. In fact, he has maintained that passion for four solid years.
As the years quickly progressed, Morns allowed him space and a range of opportunities to perfect and expand his skills.
"I love to tell the story of the game and to explain it for family and friends," said Chauncy, a native of Cleveland, Ohio, where he graduated from the School of Architecture and Design at John Hay High School. Although he is not a first-generation college student (his dad is an alumnus of the University of Akron), Chauncy is proud to admit that his mother left Birmingham to walk the same AAMU grounds and earned her degree in 1991.
"I see my role as bringing color and HBCU culture to the game," said Chauncy, ably assisted in his story-telling venture by alum/mentor and former men's basketball coach L. Van Pettaway. But it was his supreme mentor, Professor Semaj Robinson, who set him on the path of possibilities at the outset.
And, Chauncy's chances have been numerous, and the current WHNT 19 intern has made the most out of each opportunity afforded him. He has covered a range of events, from the 2021 NFL Draft to various college football and basketball events. A case in point is Sanders' NAIA tournament coverage of Talladega College men's basketball, including their loss in the National Championship in March 2022. Further, Sanders participated in the Marcus Graham Project's "Be the Solution" social justice initiative following the earth-changing death of George Floyd. The collaboration even netted an opportunity to work with the Cleveland Browns.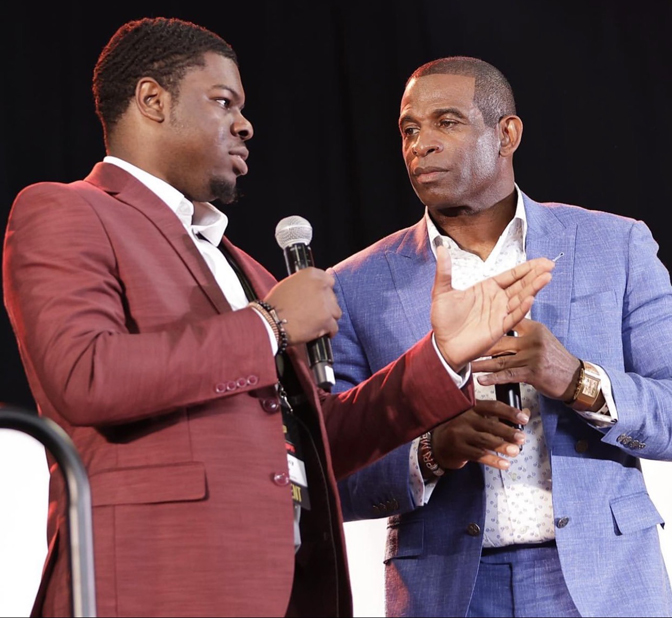 During Juneteenth 2022 in Atlanta, Ga., Chauncy took part in the invitation-only ESPN-sponsored Black Sports Business Symposium, which linked sports professionals to young, aspiring talent. A highlight of the symposium was on stage primetime with his partial namesake Deion "Coach Prime" Sanders, two-time Super Bowl champion and head football coach at Jackson State University (right).
Chauncy joined the speed networking session of the Symposium and was able to meet Kevin Demoff, COO of the Los Angeles Rams. "We had an amazing conversation, which I believe created a lifelong connection," Sanders recalled.
The next chapter entails Chauncy's trip to the Greater Los Angeles area for a three-week internship with the reigning Super Bowl Champion Los Angeles Rams. Stay tuned.
- J. Saintjones