AAMU Researchers Make Breakthrough in Testing Aging Missiles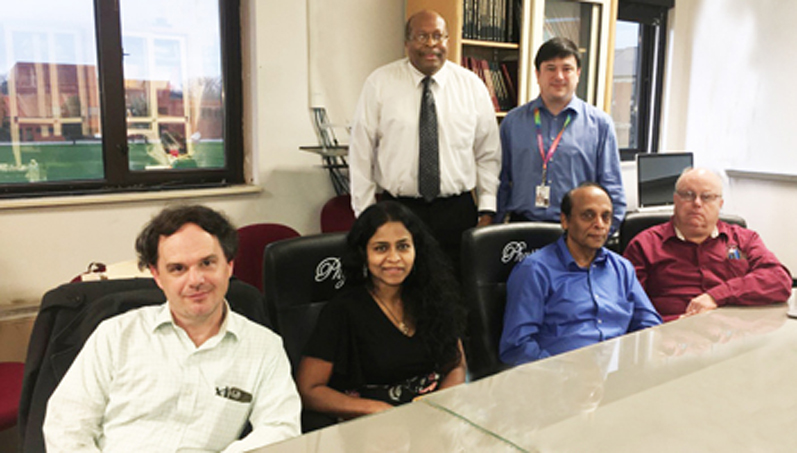 February 16, 2020
A Mission for Missiles
by Debra Daniel
Huntsville, Ala. ---- Dr. Paul Ruffin, a senior research/adjunct professor in Alabama A&M University's Department of Physics, Chemistry and Mathematics, said researchers have developed a breakthrough when it comes to testing aging missiles.
"Currently the military uses destructive methods to evaluate whether a missile is still viable," said Ruffin. "Basically, they have to take the missile apart. But with U.S. stockpiles around the world, that's a waste of millions of dollars."
"We found Optical Raman Spectroscopy can look at a missile's propellant to determine whether the missile is still good," explained Professor Ruffin. "The Raman probe can be inserted in the motor, and it shows us whether the propellant in the rocket motor is still useful."
Ruffin and his AAMU colleagues presented their research to Dr. James Parker, the program manager in the chemistry division of the Army Research Office, an element of the U.S. Army Combat Capabilities Development Command's Army Research Laboratory based in Research Triangle Park, N.C. Parker visited the Vivian Murray Chambers Science Building on the AAMU campus Wednesday to review the research and to take a campus tour.
"It's costly the way that it's done now because you have to actually sacrifice a missile. In the absence of another method, it's all we've got," noted Parker. "But this method looks very promising, because it looks like we won't have to sacrifice a missile to know whether it's good or not. We can test it using this non-invasive optical method and say, 'Oh, well, if it looks good, we didn't destroy it, we can still use it,' and that's a big benefit."
The research is part of a three-year, $376,000 cooperative agreement between researchers at AAMU; the U.S. Army Combat Capabilities Development Command (CCDC) Aviation & Missile Center at Redstone Arsenal; and the Army Research Office.
"The project is entering the second year, and it seems to me like there's probably a lot more that needs to be done in terms of developing the optical methods that are going to be used," Parker added. He called it "planned technology transition" and said that by the end of this research effort, there should be a plan in place to use the research results to develop a sensor to monitor, in real time, the reliability of the missiles.
AAMU's team of physicists includes Dr. Ruffin, Dr. Anup Sharma, Dr. Carlton Farley, Dr. Aschalew Kassu and Dr. Michael Curley. Two student researchers are also involved, applied physics doctoral candidate Jonathan Mills, and Alexandria Barnes, who received her master's in applied physics in December.
"We think this is a real breakthrough that can transform the way assessment of missile lifetime is conducted," commented Ruffin. "We will continue validating the innovative concept alongside current propellant aging evaluation methods through actual laboratory and field tests."
"The project is really important," continued Parker. "I think it's going to have a practical effect on soldiers in the field who are relying on missiles. They need to know that if they need to use that weapon system, if it's going to work or not. The research here is basically developing a plan to, in a non-destructive way, determine the reliability of every single missile that a soldier is interested in keeping in a stockpile or using, if he's deployed somewhere and he has to use it."