A&M Soil Scientist Joins National Panel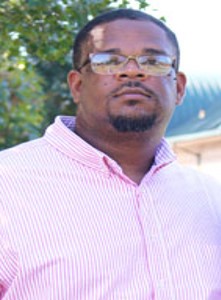 January 25, 2023
Davis Covers the Cotton Value Chain
An Alabama A&M University soil scientist and an associate professor of soil physics in the Department of Biological and Environmental Sciences served as an invited panelist at the recent three-day Cotton Sustainability Conference.
Dr. Dedrick Davis participated in the event held January 10-12 in New Orleans, La. The panel, "U.S. Climate Smart Cotton: Goals, Projects, Process," included panelists from Cotton Incorporated, Target, and the Soil Health Institute. The conference consisted of representatives of universities, producers and consultants, nongovernmental organizations (NGOs), brands, and retailers.
The broad spectrum of participants from the entire "cotton value chain" gathered to discuss current sustainability trends and to promote continuous improvement in the sustainability of U.S. cotton.
The conference Davis attended is just one of several "Beltwide Cotton Conferences," coordinated by the National Cotton Council and its cooperating partners. Moreover, the Beltwide Cotton Conferences comprise an annual forum and serve as the global champion for cotton technology transfer.