Wims Addresses Drake's Commencement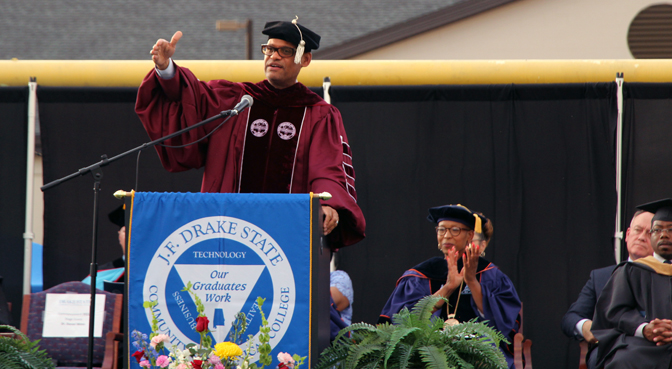 May 12, 2022
"Be the Joneses!"
The President of Alabama A&M University addressed the more than 100 graduates of Drake State Community and Technical College during a 6 p.m. ceremony held on the AAMU campus Thursday, May 12, at Louis Crews Stadium. PHOTOS
In a brief, upbeat message to graduates, Dr. Daniel K. Wims told them to "smile and laugh as much as you can." He encouraged them to be friendly, generous and considerate, but to always "fight to the end."
The administrator urged the Drake honorees to "Be the Joneses," rather than comparing themselves to them, also stressing that they become their best in all endeavors. "Keep your head to the sky," he said, borrowing a song title from the popular multi-genre group Earth, Wind & Fire.
Graduates received associate degrees and certificates in the areas of advanced manufacturing; applied services technologies; business, computer science and engineering technologies; general and developmental education; and health sciences technologies.
###