Videographer Forms Own Connections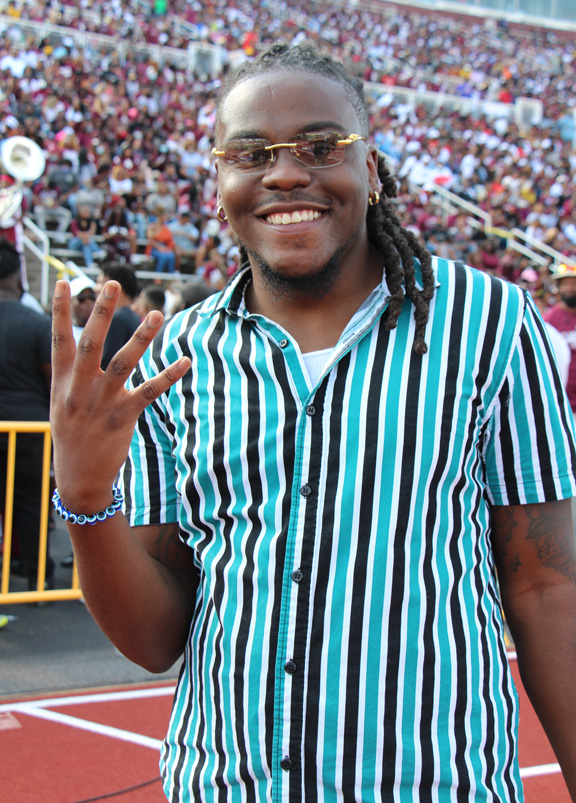 October 15, 2021
Why Howard Is 'Councill-Driven'
Before the ink had dried on his diploma, Alabama A&M University communications media alumnus Howard Melton began working at a Huntsville television station as a production assistant. But, he just wasn't feeling it.
As the world was dealing with the COVID-19 pandemic, the young Fayetteville, N.C., native returned to his beloved A&M, where he enrolled in master's level courses leading toward a communications specialist degree, which he completed in 2021.
This time, he landed a short-term independent contract to work in the Dallas area for an ethnic hair product firm. Howard was in charge of video production and editing for the company's advertising, web pages and digital marketing. He also served as one of its models.
Also while in Dallas, Howard landed an independent project shooting video for a Maker's Mark bourbon grand opening. Soon, he became the impetus behind a video production of a Dallas-based Juneteenth festival. He later hosted a car show on the fairgrounds in the downtown of one of the nation's Top 10 largest cities.
Howard also has landed several assignments through the Los Angeles-based media-tech firm Culture Genesis, known for remixing digital technology for multicultural audiences and doing so for numerous companies and organizations, including All Def Digital and even the Thurgood Marshall College Fund.
While he has become adept at navigating the Dallas scene, Howard said he also is able to see it for what it is. He noted that African Americans appear to be making a lot of progress when one looks in from a distance. However, he has noted a number of systemic and cultural barriers that seem to keep black success to a minimum.
And, because some people in other spaces have such primitive preconceptions about Alabama, Howard said they miss out on the fact that a place like Huntsville is light years ahead. In fact, when that day comes, Howard, who has several relatives with the Councill surname, said he believes a feeling will emerge for his return to settle in the Rocket City.
by Jerome Saintjones