AAMU Choir Featured in Musicale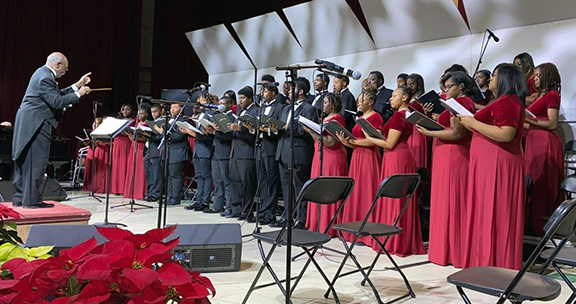 December 06, 2022
AAMU Choir Featured in Musicale
It's now official! The Christmas season in the Tennessee Valley can now begin!
The Alabama A&M University Choir, directed by Dr. Horace Carney, delivered yet another stellar performance at the 91st Annual Christmas Musicale on Sunday, December 4, at the T.M. Elmore Building. The Choir was accompanied by Dr. Mira Kruja, pianist.
The Choir performed Italian composer Antonio Vivaldi's "Gloria." Its performance was part of AAMU's lyceum series offered by the Department of Visual, Performing and Communication Arts, a unit under the auspices of the College of Education, Humanities and Behavioral Sciences. Soloists included Bra'Niy'a Jones, Brooklyn Grigsby, Ronnie Allen, Davonna Wells and Zoe Allen.
The audience joined the choir in singing Christmas carols "Joy to the World," "Silent Night" and "Angels We Have Heard on High."
Jaylon Newton was soloist for Mark Butler's arrangement of "Glory Hallelujah to the Newborn King," while Ronnie Allen and Rquavious Pitts were soloists to the Mississippi Mass Choir's version of "Emmanuel."
The Choir closed the program with "Hallelujah" chorus from Handel's Messiah."
For information on spring 2023 events, contact (256) 372-5512.
Photo: Debra Daniel
Text: J. Saintjones