AAMU Makes Impressive Showing at The World Games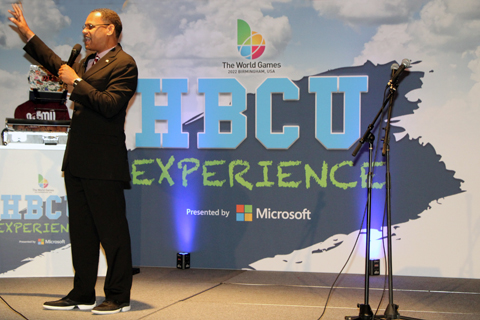 July 17, 2022
Bringing the WOW Factor!
SCENES from AAMU Day at The World Games (Photos by J. Saintjones)
Huntsville, Ala. ---- Alabama A&M University went 'high-tech' during AAMU Day at The World Games (TWG) in Birmingham, Ala., on Friday, July 15. The coordinated effort was part of the festive spirit of Microsoft's HBCU Experience tent, a major highlight of the international multi-sport, 11-day affair featuring sports and sporting disciplines not listed at the Olympic Games. TWG event is held every four years, usually a year following the Summer Olympic Games.
On Friday, July 15, Bulldogs and other supporters of Alabama A&M University took full advantage of an opportunity to connect tech, talent and culture to innovation and inclusion from 3-9 p.m. at The World Games Plaza at City Walk Birmingham. This setting featured an XBOX gaming lounge, coding activities, music beat studio, entertainment and appearances from AAMU officials, students, faculty, staff and alumni.
The HBCU Experience presented by Microsoft placed a spotlight on Alabama's historically black colleges and universities during the course of the games, July 7-17. Additionally, the HBCU Experience represented the gathering space during TWG where attendees found engaging content and tech activations designed to celebrate HBCUs.
In addition to the presence of AAMU alums in various roles throughout The World Games, HBCU alums were featured throughout the planning and implementation phases of The World Games, including AAMU Presidential Medallion recipient Randall Woodfin, who is mayor of Birmingham, the center of a metropolitan statistical area that is home to 1.1 million people.
AAMU President Daniel K. Wims welcomed hundreds of students, faculty, staff and alumni during his brief greetings at 4:30 p.m. The University went on to highlight its "metaversity" distinction with ready assistance by Dr. Rhonda Moore Jackson and Connie Mack (4:40 p.m.); STEM capabilities from faculty, staff, students and the dean of the College of Engineering, Technology and Physical Sciences (5:40 p.m.); the AAMU Experience (7:20 p.m.) touting music and celebration of culture via the University Choir (Dr. Horace Carney, interim director) and the Marching Maroon and White drumline (Carlton Wright, director of bands).
For more information, visit www.twg2022.com.