Students to Compete in National Academic Competition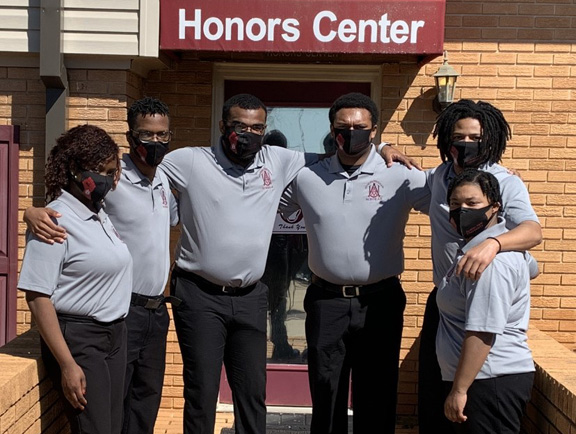 March 20, 2021
Honda All-Star Challenge - Aiming for Elite Eight
Hundreds of study hours and intense preparation have paid off for a team of scholars from Alabama A&M University, who have advanced to the Sweet Sixteen Playoffs in the Honda Campus All-Star Challenge (HCASC). Now in its 32nd season, HCASC is America's premier academic competition between students from Historically Black Colleges and Universities (HBCUs) through which Honda annually awards more than $350,000 in institutional grants to the participating HBCUs.
Due to the pandemic, HCASC will shift from in-person events to virtual tournaments. On March 20-21, Alabama A&M University will compete in the HCASC Sweet Sixteen Playoffs with the goal of advancing to the National Championship Tournament, April 17-20. The Sweet Sixteen Playoffs will determine the Elite 8.
This is the 28th season that AAMU has participated in the Honda Campus All-Star Challenge, according to Carla Draper-Holloway, Honors Center director, who enters her fifth year as team coach. Like this year, AAMU was undefeated in the qualifying tournament.
"We've had to adjust to the new virtual format and work on communication skills and a new buzzing technique to ensure that we could remain competitive," said Holloway. Aniekan Daniel Ruffin, a junior majoring in mechanical engineering from Montgomery, Ala.; Chaz Deon Holder a junior majoring in mechanical engineering from Indianapolis, Ind.; Byron Dewayne Wesley, Jr., a sophomore majoring in English from Birmingham, Ala.; and Brooklyn Albert, a junior majoring in political science from Birmingham, Ala., will represent Alabama A&M University.
"Our team works very hard, and we have long, intense study sessions four to five times each week," noted Coach Holloway. "It is a major time commitment and sacrifice for all of us. However, we are committed to the overall goal! Each player shares my profound desire to bring the National Championship trophy to The Hill for the first time ever!"
Holloway asserts that, although AAMU has never won the national title, this year will be one of extra motivation, as "this year will be our last opportunity to win a national championship with Dr. Hugine as the University president. Dr. Hugine has been incredibly supportive of this initiative. We owe him that trophy."
Honda Campus All-Star Challenge is a year-round knowledge-based program that enhances educational experiences and personal development opportunities for HBCU students. The program challenges students to expand their scope of knowledge on a wide range of topics while gaining lifelong learning skills, including leadership, collaboration, and sportsmanship. During games, students work together to answer questions about history, science, literature, religion, the arts and pop culture. Outside of competition, students build camaraderie, network, and become friends for life.
Established in 1989 to recognize the academic talents of HBCU students, the Honda Campus All-Star Challenge can be a platform to help students pursue their dreams. AAMU aims to be the last team standing and to win the top prize – a $75,000 institutional grant from Honda.
"Honda congratulates the students from AAMU who demonstrate a passion for knowledge and learning that extends beyond the classroom," said Alexandra Warnier, manager of Corporate Social Responsibility at American Honda. "For over 30 years, Honda Campus All-Star Challenge has highlighted the academic excellence of HBCUs on a national stage. We look forward to crowning the 2021 HCASC National Champion and celebrating the achievements of these incredible students."
"I've been blessed to work with amazing students over my few years as HCASC coach," said Coach Holloway. "This year is no different."
Holloway calls the past year a "uniquely challenging" one for the team. Chaz Holder, a central player, barely survived a severe car crash in late October 2020. The car accident left him gravely injured with a wired jaw, crushed bones on his left side and on a ventilator for days. The prognosis was very bleak. Holloway said the incident brought the AAMU team to a full halt for several weeks.
"Eventually, we resumed study and prayed relentlessly for a full recovery," said Holloway. "Our deepest prayers were answered, and he has recovered (i.e., he still has physical therapy and recently had a minor surgery on his jaw) and rejoined us for full study in January! We now study with a renewed purpose."
Also, for the second consecutive year, Holloway has chosen Aniekan Ruffin as team captain. "He is serving his fourth year on the team and provides great energy as our 'swiss army knife', a nod to his ability to dominate almost any topic in competition."
The Honda Campus All-Star Challenge Sweet Sixteen Playoffs will be live-streamed on March 20 and 21, starting at 10 a.m. EDT at HCASC.com.