Aramark Scores TD with Tailgating Theme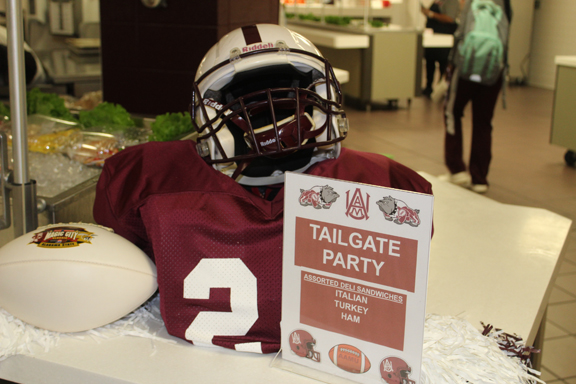 November 03, 2020
Touchdown at Foster!
Bulldog football blues?
Aramark Dining Service at Alabama A&M University scored big at the Mamie Labon Foster Complex on Thursday, October 29, when it "went on the offense" with its "Tailgating" theme during the dinner meal. PHOTOS
Capturing the bottled up spirit of a sorely missed football season, Food Service Director Felicia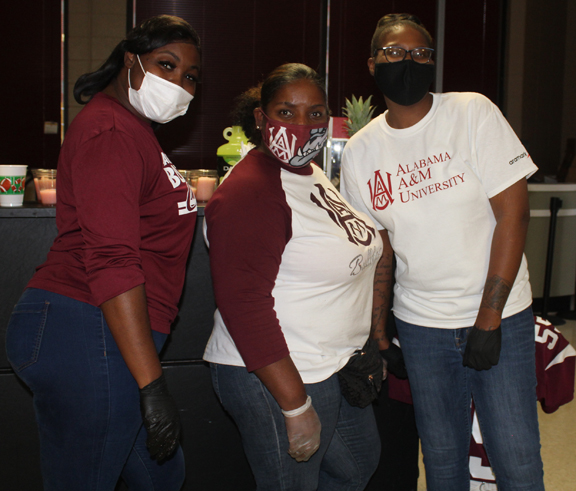 Wilson and her team decorated the dining hall with massive football balloons, maroon and white balloon goalposts, gridiron shelf coverings, athletic decals, tailgating tents, pom poms, and pennants.
Staffers clad in Bulldog paraphernalia provided hamburgers, hotdogs; a bread cornucopia; Italian, turkey and ham deli sandwiches; pizza and much more. President Andrew Hugine, Jr., and First Lady Abbiegail Hugine joined SGA President Japhe Jelks in welcoming students to the dining hall.