AAMU Could Be Part of UAB Early Assurance Program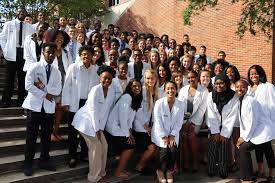 May 01, 2021
More Opportunities for Minority Medical Students
Alabama A&M University will join a short list of historically black colleges and universities (HBCUs) who are part of an initiative to increase their students' acceptance into a flagship medical school.
Through the University of Alabama at Birmingham (UAB) Early Assurance Program, ambitious AAMU students interested in the field of medicine will be provided important shadowing and research opportunities early in their matriculation.
UAB School of Medicine coordinators of the program suggest that AAMU's diverse learning environment offers students unique perspectives, skills and experiences that will be an asset for a medical career serving patients from all backgrounds.
"We are proud to be a part of this initiative," stated Professor Jeanette Jones, adding that AAMU has enjoyed a relationship with UAB that has extended for many years and that the new program will strengthen AAMU's efforts "to get our students placed in the medical profession."
AAMU Provost Daniel K. Wims said that the expansion of the University's footprint in the health professions has been tough. A partnership, he noted, will help the state and UAB meet the health care challenge, utilizing qualified faculty and students at A&M, which is the state's largest HBCU. Moreover, UAB operates a campus in Huntsville, site of AAMU.
Dr. Christina Grabowski, assistant professor and associate dean for admissions and enrollment management at UAB School of Medicine, said the initiative will allow changes in medical education to be addressed, as well as changes in the physician workforce.
The Early Assurance Program will be open to those AAMU students who have completed their sophomore year, have a 3.5 undergraduate grade point average, and have maintained a minimum of a 3.5 GPA in their science courses. Applications will be accepted from May 1 through July 1. Preference will be given to Alabama residents.
"We are pleased to offer our students unique opportunities that make them more competitive while simultaneously allowing them to provide needed services to this state," commented Dr. Andrew Hugine, Jr., AAMU president. "We are grateful to the UAB School of Medicine for this innovative program and its foresight."