AAMU Mourns Loss of Loyal Son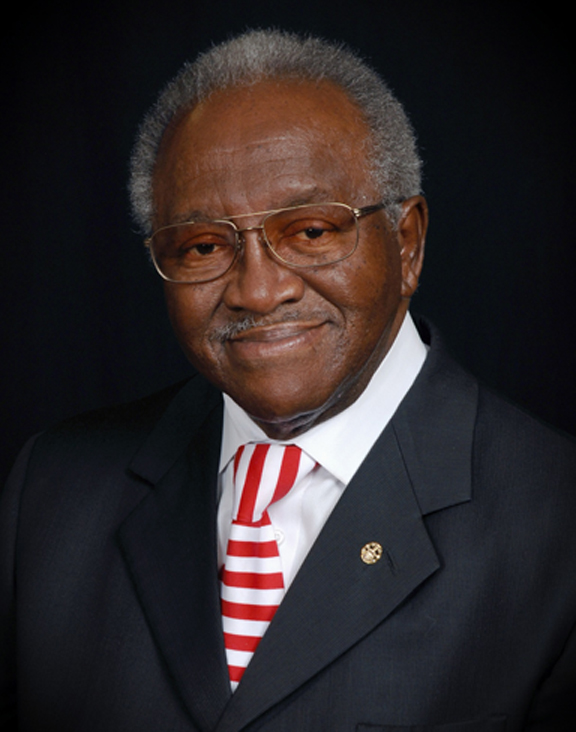 October 20, 2021
Dr. Richard Showers Remembered
The entire AAMU Family is mourning the October 16 death of Dr. Richard Showers, a Bulldog alumnus and loyalist who served as a Huntsville city council member for District 1 for nearly 30 years.
Born in Lillian, Ala., the Baldwin County Training School graduate relocated to Huntsville in 1964 as a student-athlete at Alabama A&M University, where he earned his Bachelor of Science degree in Agribusiness Education in 1969 while also playing football for Coach Louis Crews. He later received his Master of Science degree in Trade and Industrial Education. He furthered his studies at Auburn University and worked as an educator at Auburn High School as an agribusiness teacher
Showers served as an educator and taught for a total of 36 years. After his many years of giving to, teaching, and mentoring youth groups and adults in North Alabama, he chose to retire from the Huntsville City School System in 2005.
In 1988, Dr. Showers was the first African American elected since Reconstruction to represent District 1 as a member of the Huntsville City Council. In 2005 and 2015, he was elected to serve as council president. He was also elected president pro-tempore for several years and was the first African American councilman to hold primary leadership positions on the Huntsville City Council. He steadfastly served the constituents of District 1 and all citizens of the City of Huntsville and the surrounding area for 28 years.
While serving on the Huntsville City Council, Councilman Showers initiated Huntsville's first smoking ordinance and was a key element to the success of numerous economic initiatives, including the North Huntsville Industrial Park and the Toyota Plant. He succeeded in having the Northern Bypass named to honor Reverend Dr. Martin Luther King, Jr., and was instrumental in the remodeling and refurbishing the YMCA located on Blue Spring Road, renamed the Dr. Richard Showers, Sr., Recreation Center in his honor. He led the efforts to build the Mastin Lake Overpass, Northern Bypass, and the naming of Dr. Joseph E. Lowery Blvd.
A life member of Alabama A&M University Alumni Association, Inc., Showers was also a life member of Kappa Alpha Psi Fraternity, Inc. (50 years); and a life member of the NAACP. He served as a member of the Alabama A&M University Trustee Board, Normal, Alabama; and a member of the Selma University Trustee Board, Selma, Alabama. He was also a member of the Alabama Democratic Conference and New South Coalition.
He is survived by his wife of over 40 years, Bettye Ann Adams Showers, and five children: Richard (Sonya) Showers, Jr., Huntsville, Ala.; Felicia Monette Brown, Huntsville, Ala.; Jenise (General) Showers Bradshaw, Huntsville, Ala.; Gwendolyn Ann Valentine, Durham, North Carolina; and Wanda Marie Showers, Huntsville, Ala.