Grad Student Is Bessemer's "Teacher of the Year"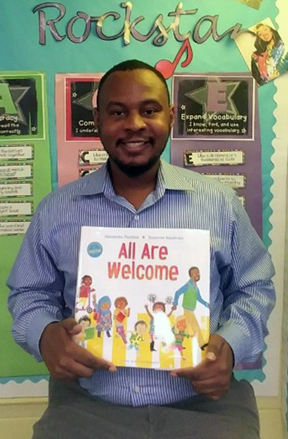 March 03, 2021
Passionate about meaningful learning experiences
A graduate elementary education student at Alabama A&M University has been named "Elementary Teacher of the Year" for 2020-2021.
Willie Davis earned his B.S. degree in elementary education from The University of Montevallo before joining Bessemer City Schools, where he teaches 3rd grade and serves as lead teacher. Davis is a scholarship recipient and participant in AAMU's Males for Alabama Education (M.AL.E.), a mentoring program focused on recruiting, retaining, training and placing minority men in classroom as teachers.
Although he is only in his seventh year of teaching, the young mentor has taught grades 1 through 4. Moreover, he has participated in numerous professional development sessions related to literacy, curriculum development, standards-based instruction, STEM instruction, and social and emotional learning. He has served on numerous school-level and system-level committees in his school district.
Davis completed the Teacher Leadership Institute hosted by Montgomery County Education Association (Ala.), and he is pursuing National Board Certification in Early and Middle Childhood Literacy: Reading and Language Arts.
National Board Certification is a rigorous, voluntary process that teachers undergo to demonstrate accomplished teaching. Davis believes that effective teaching methods and collaboration among educators are key factors in student achievement. He is passionate about providing meaningful learning experiences to students of color and those living in high poverty areas.