Change of Command Ceremony Held for Naval Officer, Alum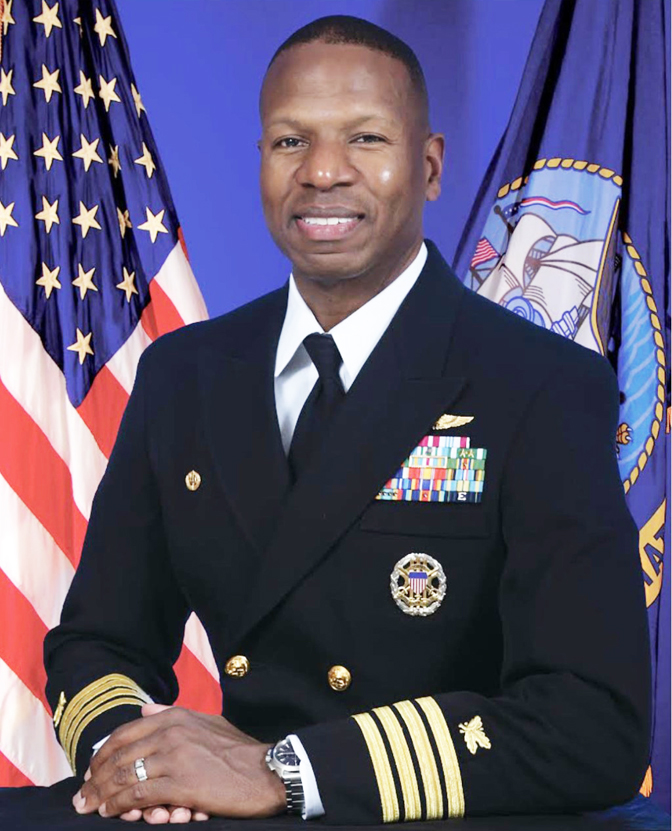 August 24, 2022
Commanding Officer for NAVSUP Fleet Logistics Center Norfolk
An Alabama A&M University alumnus will serve as the Commanding Officer for NAVSUP Fleet Logistics Center Norfolk after relieving Captain Julie M. Treanor, Supply Corps, U.S. Navy.
Captain Martin L. Edmonds, Supply Corps, U.S. Navy, was recognized during a Change of Command ceremony in Norfolk, Va., on Thursday, August 4.
An Alabamian, Captain Edmonds received the B.S. degree in finance from AAMU in 1998. He earned the MBA with a concentration in financial management from the Naval Postgraduate School in 2008. He also completed professional military certifications from the National Defense University and the University of Virginia's Darden School of Business, respectively.
His operational assignments include tours onboard the USS Nimitz CVN-68 (Supply Officer), USS Dwight D. Eisenhower CVN-69, USS Stethem DDG63, USS Cushing DD-985 and USS Harry S. Truman CVN-75. Each of his ships earned Supply Blue "E" Awards for Excellence. Previous shore assignments include Chief of Staff in the Office of the Deputy Assistant Secretary of the Navy for Financial Operations; and Program, Budget and Analysis Division (PBAD) Analyst and Executive Assistant to the Director, Joint Staff (J8).
His personal decorations include the Legion of Merit, Defense Meritorious Service Medal, Meritorious Service Medal (2), Joint Service Commendation Medals (3), Navy and Marine Corps Commendation Medals (4), Navy and Marine Corps Achievement Medals (3) and Military Outstanding Volunteer Service Medal, among other unit and campaign commendations.