AAMU Names/Renames Campus Facilities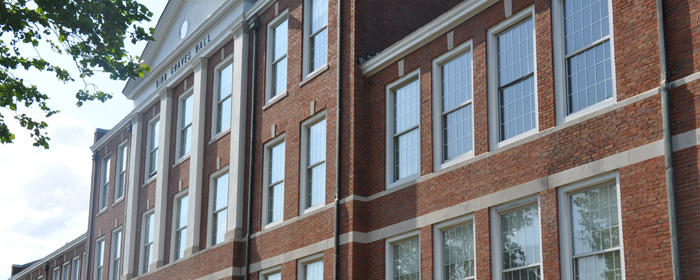 June 26, 2020
Board Approves Subcommittee Recommendations
Huntsville, Ala. ---- Alabama A&M University joined several institutions within the state and around the nation that have reconsidered how and for whom its buildings have received their names. Acting on a slate of building name recommendations, the AAMU Board of Trustees approved among that list the renaming of Bibb Graves Hall.
The facility currently houses the University's social work programs, distance education and other units. Built in 1929, under the administration of Dr. Joseph F. Drake, the three-story structure features a variety of classrooms, offices and a top floor auditorium and stage area. Today, the Board of Trustees approved to rename the facility after Walter S. Buchanan, Alabama A&M's second president, who served from 1909 to 1920.
Other recommendations presented for Board approval by Dr. Archie Tucker, II, vice president for marketing, communication and advancement, included the naming of the newly renovated auditorium in the renamed Buchanan Hall as the Henry and Nell Lane Bradford Auditorium. The Bradfords, who collectively served more than 80 years in the Department of Music, launched numerous musical and choral alumni who continue to inspire music lovers throughout the U.S.
Additionally, the McCalep Vocational Building was renamed the George O. McCalep, Sr., and Ronald and Patricia McCalep McIntosh, Sr. Hall. Patricia McCalep McIntosh is the daughter of George O. McCalep, Sr. The McIntoshes are avid AAMU supporters and are the second largest alumni donors in the history of the University.
Finally, for her consistent and longtime support of the University in her 25-year capacity as food service director, AAMU named the cafeteria inside the Knight Center Complex as the Felicia Wilson Dining Hall after alumna, Felicia Mastin Wilson. AAMU's affiliation with Aramark, which manages the food service operation, and Mrs. Wilson's employment, spans 50 years. Felicia Wilson has served each of those years as she has and continues to be a consistent advocate for Alabama A&M.
###