Eleven Attend IFT Symposium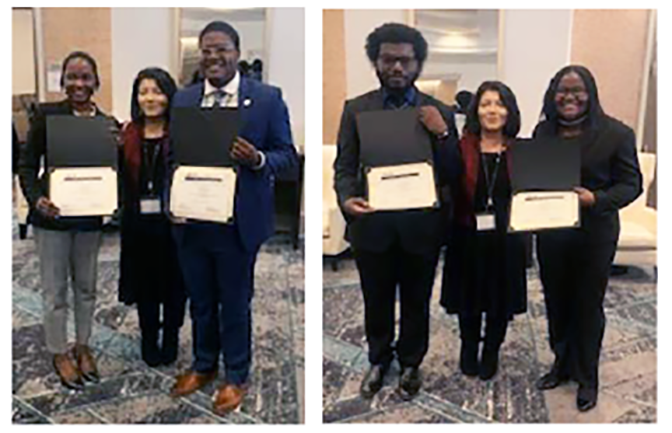 April 21, 2022
Eleven Attend IFT Symposium
The Department of Food and Animal Sciences (FAS) within the College of Agricultural, Life and Natural Sciences (CALNS) presented successfully at the annual South Eastern Section of the IFT Supplier's Night Expo at the Decatur Convention Center (Decatur, Ga.). The South Eastern Section Institute of Food Technologists (IFTSES) Research competition is also held as part of the one-day conference.
On April 7, 2022, eleven CALNS FAS department representatives including faculty, staff, graduate, and undergraduate students traveled to Georgia for the event.
During the research competition, the students shared their prepared PowerPoint presentations before a panel of judges who reviewed the information, asked pertinent questions, and made selections of the winners for the categories of undergraduate and graduate awards.
The 2022 competitors represented the University of Georgia; Clemson University (S.C.); Auburn University (Ala.) and Tuskegee University (Ala.). Participants Alton Chambers (first place) and Katelyn Boyle (second place) were the only two undergraduates from CALNS FAS to attend.
Jabari Hinton and Maryam Shomope won first and third places, respectively, in their research competitions out of six CALNS FAS graduate students that were present.
First Photo (l-r): Maryam Shomope, Dr. Martha Verghese, Food and Animal Sciences department chair, and Jabari Hinton. Second Photo (l-r): Alton Chambers, Dr. Verghese and Katelyn Boyle.
Dr. Joshua Herring, FAS professor, has served as president of the IFTSES for this 2021-2022 term. Past leaders from AAMU are Dr. Lloyd Walker, Dr. Leonard Williams and Dr. Martha Verghese.