A&M Alumni Film Team Stepping Up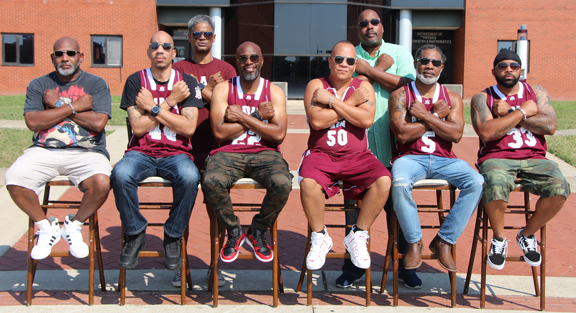 October 22, 2021
Alums Taking Film Making to a Whole 'Nother Level!
An inspired group of Alabama A&M University alumni has been making strides in the development of the film "The Normal Life." The film will feature the days of young men and women who bonded and found magical transformation during the campus days in the early 1990s. BACKGROUND
Although the concept developed years ago, that idea began to grow tangibly in mid-May 2021. Moving full force throughout the summer, the team has found a groove and is now possessed by a Bulldog grasp for success.
The team carries outs its function under the moniker "All Kings," a 12-person group (see PHOTOS) primarily led by three catalysts. That short list includes the dynamic, almost prophetic, Paul Graves, Jr., a business management and marketing graduate, from Atlanta, Ga., and Chicago native Khari Okang Embery, a secondary education Normalite now based in Tampa, Fla., who is a realtor and overall Renaissance Man. The trio necessarily includes Daphne, Ala., native Tim Duncan, a 1996 marketing and MBA alumnus who serves as logistics lead for the Department of Defense Missile Defense Agency.
Other players with equal claim to the dream are rounded out by (alphabetically) Quinton Arrington of Acworth, Ga.; Jonathan Edward Brown, Detroit, Mich.; Sean Kareem Daney, Detroit, Mich.; Franco "Butter" Gunnell, Chattanooga, Tenn.; Doralis G. "MVP" Leslie, Dacula, Ga.; Grant Markell Harris, Jonesboro, Ga.; Stanley "Potnoose" Morrison, Birmingham, Ala.; Kelly Walton, Champaign, Ill.; and the multi-talented Erika Heard.
In the most recent developments, group members are already looking into a soundtrack deal, with artists already identified. According to Paul, work is also underway on a deal for distribution and placement. The alumni film team has a "platform of people," Paul explains, that is looking into ways to introduce non-fungible tokens and even a "Councill Coin" into the project.
It's evident that the 'sky's the limit' for the group, which has continued to show its passion and unbridled creativity. For even more about "The Normal Life" film project, contact malcomb73@yahoo.com.
- J. Saintjones