AAMU to Launch Annual Bus Tour Across State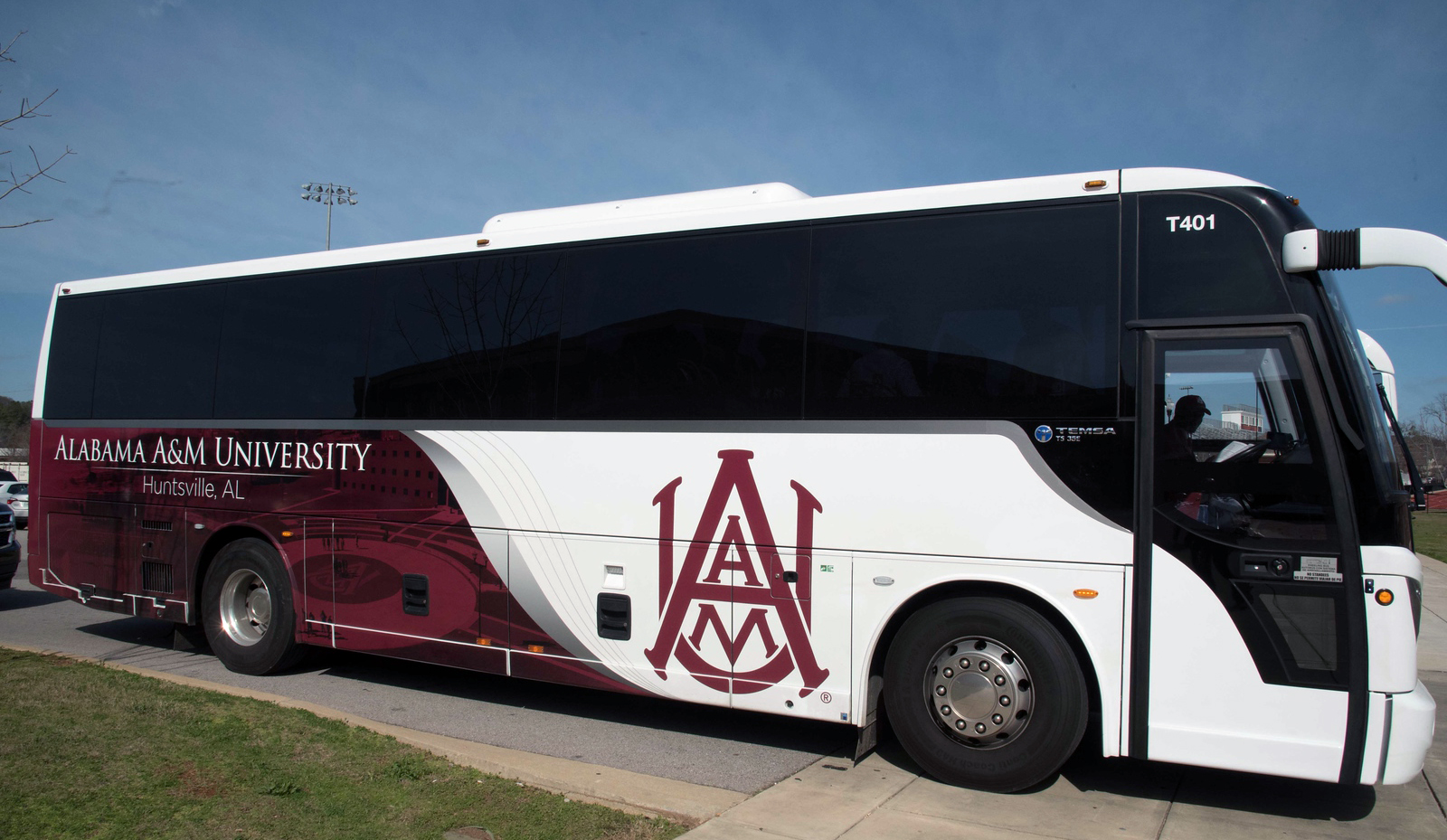 February 24, 2023
Week-long Tour Will End with Campus Reception
Huntsville, Ala. ---- Alabama A&M University is slated to begin its 11th annual Scholarship Recognition and Promotional Tour on Sunday, February 26, as it travels to the port city of Mobile, Alabama, for a 5 p.m. scholarship reception at John L. LeFlore High School, located at 700 Donald Street.
The week-long tour will encompass visitations to several host high schools around Alabama, where Admissions and Student Affairs staff, alumni and students will witness President Daniel K. Wims present more than $20 million in scholarships to students. The host high schools will be regional hubs that serve as the central meeting place for several nearby schools. Last year, the AAMU dispensed nearly $16.3 million to nearly 800 recipients at more than 100 of the state's high schools during the tour.
Monday, February 27, 2023
South Alabama
On Monday, the AAMU tour will continue throughout the southern Alabama region, providing information and scholarships to students at host schools (in bold) Monroe County High School (8:30 a.m. - Guest Schools: Excel High School, J.F. Shields High School and Hillcrest High School/Evergreen High School) and further east to Enterprise High School (1:30 p.m. - Daleville High School and Pike County High School) and Dothan High School at 5:30 p.m.
Tuesday, February 28
East Alabama
At 10:30 a.m. on Tuesday, the bus tour will begin its East Alabama run on the campus of the host, Central High School of Phenix City. Central will welcome the area schools of Auburn High School, Smiths Station High School, Russell County High School, Opelika High School and Eufaula High School.
Wednesday, March 1
Montgomery/Black Belt
President Wims and staff will start off the central Alabama portion of the tour on Wednesday, March 1, with 8:30 a.m. presentations at Carver High School in Montgomery, Alabama. Carver will serve as the host to the following regional high schools: Robert E. Lee, Jeff Davis, Brewbaker, Sidney Lanier, Booker T. Washington (Montgomery), Booker T. Washington (Tuskegee), Loachapoka, Wetumpka, Prattville, LAMP, Autaugaville, Bullock County, Greenville, Montgomery Catholic Prep, Tallassee, Pike Road, Holtville, St. James, Macon-East Academy, Success Unlimited Academy, Evangel Christian Academy, Stanhope and Park Crossing.
The bus tour is scheduled to arrive at 11 a.m. at Selma High School, which will serve as the host for Central (Hayneville), Calhoun, Dallas County, Keith, Southside, Linden, R.C. Hatch and Wilcox County. The final stop for Wednesday will be on the campus of Greensboro High School, which will host Frances Marion, Hale County, Amelia Johnson and Sweet Water.
Thursday, March 2
Black Belt/Tuscaloosa
Eager alumni, scholarship recipients and their supporters will be on hand to greet President Wims and the team as the AAMU bus tour continues its run through the Black Belt and Tuscaloosa. The first stop of the morning will be at 8:30 a.m. at Greene County High School in Eutaw, Alabama. Greene County High will host Demopolis, Sumter Central and Marengo County.
The bus tour will visit Central High School in Tuscaloosa at 11 a.m. Central will host Pickens County, Gordo High School, Aliceville, Tuscaloosa County and Hillcrest. The last stop for Thursday will take place at Northridge High School, also in Tuscaloosa, at 1:30 p.m. Northridge also will host parents and scholarship recipients from Paul Bryant and Brookwood.
Friday, March 3
Birmingham
The high schools within and surrounding metropolitan Birmingham will encompass the entire schedule for Friday, March 3, starting with presentations at host Bessemer High School at 8:30 a.m. The school will host Midfield, Wenonah, McAdory, Hueytown, Fairfield, Parker, Restoration Academy and Jackson Olin.
Beginning at 11 a.m., tour organizers will meet at Carver High School, also welcoming Huffman, Tarrant, Shades Valley, Pleasant Grove, Fultondale, Gardendale, Hewitt-Trussville, Holy Family Cristo Rey Catholic, Pinson Valley, Minor, Cornerstone, Jefferson, Center Point, Clay-Chalkville and Woodlawn. The Magic City run will conclude at 1:30 p.m. at Ramsay High School, which will host Hoover, Homewood, Vestavia Hills, Spain Park, John Carroll, Calera and Thompson. [The bus team will make a brief detour Saturday, March 4, to Atlanta, Georgia, for an 11 a.m. reception at Benjamin Banneker High School.]
Monday, March 6
Decatur/Anniston
The bus tour will enter the River City on Monday, March 6, with an 8:30 a.m. stop at Decatur High School, which will host Austin High. The group will be welcomed at Anniston High School at 11:30 a.m. Anniston will host Oxford, Saks, Talladega, Talladega County, Central, Handley, Winterboro, Sylacauga, Gadsden, Donoho, Handley and Faith Christian. The statewide tour concludes with a North Alabama scholarship reception at 6 p.m. at the Knight Center on the AAMU campus.
Traveling in the custom Bulldog Coach, the AAMU team for the week will include President Wims, student leaders, faculty, alumni, and Admissions and Financial Aid staffers. This year's tour will showcase performances of "The Bulldog Beat," by AAMU theater students. For additional information and updates, contact the AAMU Office of Admissions at (256) 372-5245.
- Jerome Saintjones
Caption: Bus tour scene from 2022