New A&M PMS Looks Forward to Return to The Hill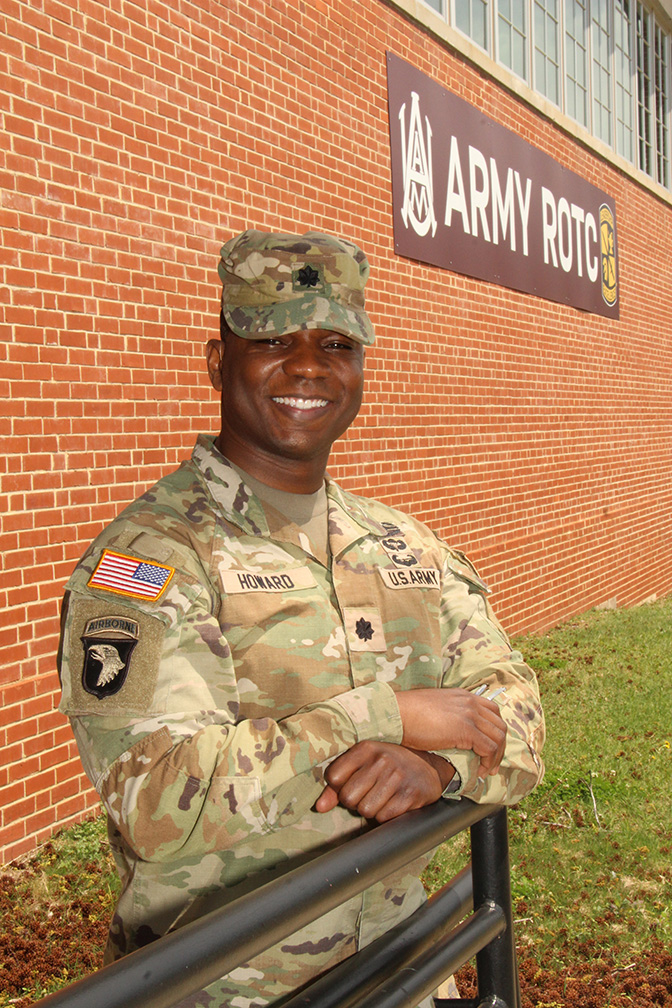 April 22, 2022
"Early" to Rise ...
Almost 20 years ago, LTC Early Howard, Jr., received his bachelor's degree in sociology from Alabama A&M University, along with subsequent commissioning as a second lieutenant in the U.S. Army. He was then destined for Korea to serve a year as a platoon leader with the 552nd Military Police Company.
Now—after two decades of educational experiences and military courses; several assignments; a few deployments; and numerous awards and decorations—the Montgomery, Ala., native will return to his alma mater on July 15 as its Professor of Military Science (PMS). Although his new post will be housed in the newly renovated Frank Lewis Gymnasium, Howard still remembers fondly his days on campus, beginning with his entry as a freshman in 1999. He said A&M provided the perfect fit.
"I wanted to be far from home, but not too far," Howard said. "I really liked the campus and the diverse set of majors A&M had." He also took a keen interest in the ROTC program, and the fact that he had "a lot of friends" making the same decision helped to seal the deal.
Once he had made the selection and was counted among the Bulldogs, Howard credits Professor Joseph "Chips" Rosher for sparking the former's interest in the field of sociology.
"I found him personable and thought-provoking," recalled LTC Howard. "I loved group dynamics and the whole notion of studying groups. He helped me to decide to pursue sociology."
One of his most significant role models within the military was the tall, physically imposing senior military instructor, MSG (Ret.) George Stephens. "He was all about business," said Howard, "but he helped me to navigate through the ROTC program."
Following his brief stint in Korea, Howard was deployed as part of military police operations within Operation Iraqi Freedom (2006-2007); Operation New Dawn (2009-2010); and Operation Enduring Freedom (2017).
This is a pivotal period in the history of AAMU's ROTC program. The program is observing 50 years of service and is slowing approaching the commissioning of the 1,000th officer.
Howard and his wife, the former Camille Fulgham, also an AAMU alum, have a two-year-old son, Michael.