AAMU Band Could Have Clip in Franklin Documentary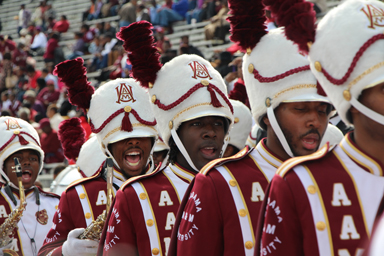 March 04, 2021
Will MMW Be Included in Aretha Documentary?
Video footage of Alabama A&M University's Marching Maroon and White Band could be a part of a landmark production, if all goes well, according to Carlton Wright, AAMU's director of bands.
Performances of the AAMU band were recorded Thursday, February 25, for possible inclusion in the National Geographic Channel's upcoming documentary on the 'Queen of Soul,' the legendary Aretha Franklin. National Geographic has scheduled the airing of the eight-part "Genius: Aretha" over four nights, beginning March 21, with episodes set for streaming on Hulu after the air dates.
The series will feature performances by Academy Award nominee Cynthia Erivo, who portrays Aretha Franklin; Courtney B. Vance as her father, the Rev. C.L. Franklin; and Clifford "T.I." Harris and David Cross. The series is executive produced by Ron Howard and Brian Grazer, and will take its place among other National Geographic "Genius" productions, including "Genius: Albert Einstein" and "Genius: Pablo Picasso."
Wright said videographer Christopher Dickerson scheduled the recording sessions on The Quad and at Louis Crews Stadium.