AAMU Students Attend Regional Theatre Conference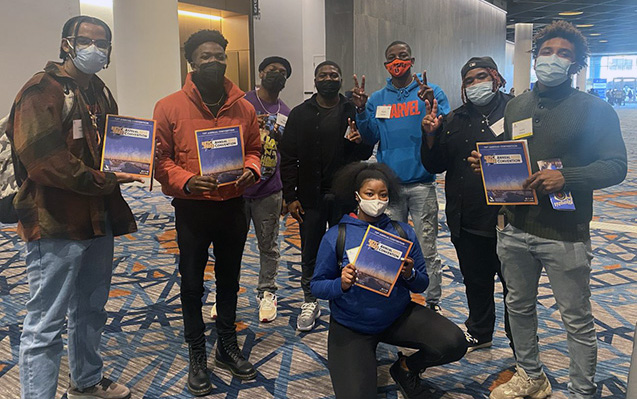 April 06, 2022
Students Gain Multiple Offers
Five Alabama A&M University students recently attended the Southeastern Theatre Conference in Memphis, Tenn., from Wednesday, March 8, through Sunday, March 13, to audition for theater graduate programs and to network for potential job opportunities in theatre performance and all areas of theatre design.
Student attendees included Jordyn Johnson, graduating senior, and Andre Wilson, junior, both communications media production concentration; communication media performance concentration students Ansley Joseph, senior, and Tariq White, junior; and Joseph Tilaye, freshman, graphic design major.
Each student walked away with job and graduate school opportunities after auditions and interviews in the job fair expo hosted at the conference.
According to Jill Balch-Coon, MFA, AAMU assistant professor of performance and theatre director, the students attended workshops that focused on improv, directing and acting, and they attended live performances presented at the festival.
Graduating senior (December) Ansley Joseph auditioned for graduate schools and received eight (8) callbacks from schools/universities. Juniors Andre Wilson and Tariq White were extended invitations to visit several graduate programs and provided scholarship information for programs.
Additionally, graduating senior, Jordyn Johnson, interviewed with a special effects Nashville-based make-up school. He is being considered for a fully paid internship with "guest residence" at a Memphis theatre following graduation. Freshman graphic design major Joseph Tilaye networked with design companies and colleges and participated in a collaborative design workshop in which he designed a set in a church atmosphere during the Baroque period for the musical Hamilton. Tilaye also networked and was given information about participating in next year's design competition.
"All of these students can immediately implement all their learning and 'next steps' as artists in the Bulldog Players' upcoming production of The Wiz in November 2022," said Balch-Coon. In addition to taking full advantage of the SETC, the AAMU Bulldog Player students attended Tumbling Down at Hattiloo Theatre in Memphis' Overton Square area. Hattiloo Theatre is "the only freestanding Black Repertory Theatre in five surrounding states," according to its website, Hattiloo.org.