AAMU Receives $2.2M FTA Grant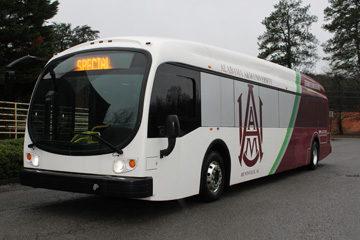 June 02, 2020
A Step Closer to a Zero-Emission Future
June 2, 2020 ---- Alabama A&M University's transit system is among projects in more than 40 states that will receive a portion of some $130 million in grants from the Federal Transit Administration (FTA) to boost low- or no-emission (Low-No) transportation and related infrastructure.
AAMU's Bulldog Transit System (BTS) has been awarded over $2.2 million to buy additional zero-emission electric buses that will ultimately allow the school to replace diesel buses that have reached the end of their usefulness.
BTS and Proterra formed a strong partnership to deliver clean, quiet transportation to AAMU and the surrounding community. Proterra is a leading innovator in the manufacture of heavy-duty electric transportation and designs, engineers and manufactures its battery systems and buses in America.
In November 2019, AAMU introduced two state-of-the-art Proterra electric buses to the campus and the state. The buses marked the first electric buses on the road in Alabama, as well as the first electric bus fleet on a predominantly black college campus.
The FTA grant announced June 2, 2020, will allow AAMU's Bulldog Transit System to further increase its total number of electric buses, as well as to work toward its goal of providing needed infrastructure upgrades, charging stations, a bus storage facility, and overall safer and cleaner campus environment, according to Marshall Chimwedzi, director of BTS.
###